Ancient granite 
The defining geological feature of much of south-western Australia is the Yilgarn Block, a massive granite craton. It is one of three cratons (the others are in the Pilbara and Gawler, SA) that are comprised of the oldest material in Australia. The Yilgarn craton is dated between 3,700 and 2,600 million years old. 
The world's oldest known material – some unprepossessing grains of sand – are found in Western Australia. These are 4,374 million years old, nearly as ancient as the planet Earth itself. (Collins et al, The Conversation)
Granite outcrops and domes – where the Yilgarn Block is exposed above the surface – are dramatic features of southwestern Australia.
Noongar people tell us that these areas were central to their habitation of this country, and there are many signs of that habitation on and around many of the granites. These include gnamma holes on top of granite that are long-used waterholes, and karda mia, lizard traps formed by granite slabs propped by a smaller rock to catch reptile prey on outcrops.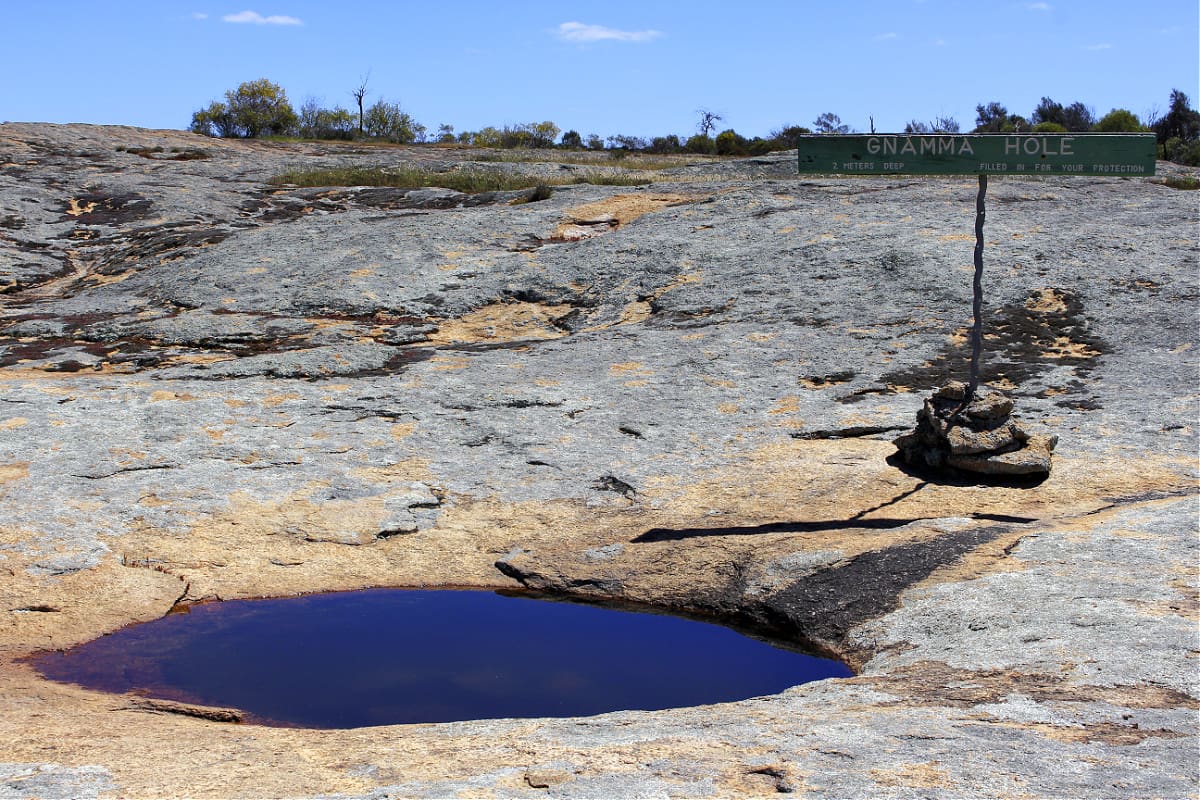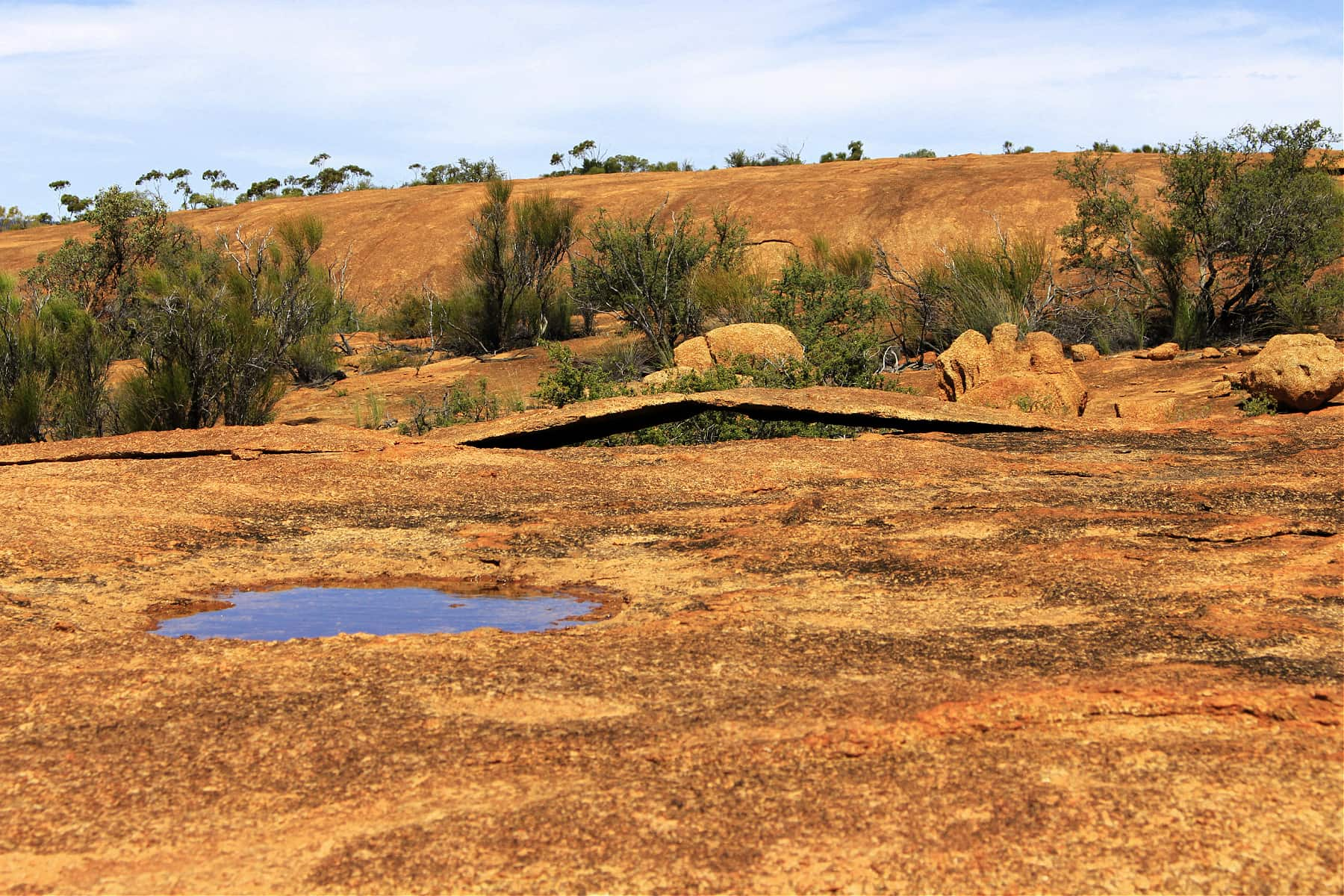 Diverse life
Professor Steve Hopper has studied granite outcrops for decades:
The living organisms found on granite rocks range from the smallest bacteria to the world's most massive trees… The diversity of habitats over short distances, from bare rock to deep soil or darkest cave, combined with island-like attributes make granite rocks the source of endless biological discovery. (Nikulinsky and Hoppers, Life on the Rocks) 
There are many habitats for life on the rocks: ranging from the massive rock surfaces and their coverings of lichen and moss, to gnammas and rock pools, soil-filled depressions and the fringing vegetation.
Distinctive plantlife
Many distinctive plants, lichens and other cryptogams inhabit the shallow skeletal soils in depressions on the rock surface or form mats on the rock surface itself, providing the organic matter and moisture holding capacity for other species to survive. These habitats are usually only fit for the hardiest of organisms however, often waterlogged for periods but then drying completely and having to find ways to survive desiccation until the next rainfall.
The pincushion lily, or resurrection plant Borya nitida and other Borya species are examples, becoming desiccated to only 5% of their normal leaf moisture content and turning bright orange as water becomes scarce but rehydrating quickly and become green again when it rains.
Orchids, trigger plants, daisies and sundews are among the species that form a rich carpet of flowers on granite outcrops in spring following good winter rains. Some species of woody perennials may survive the extreme drying because they possess thick leaves; Hakea species and Anthocercis are examples.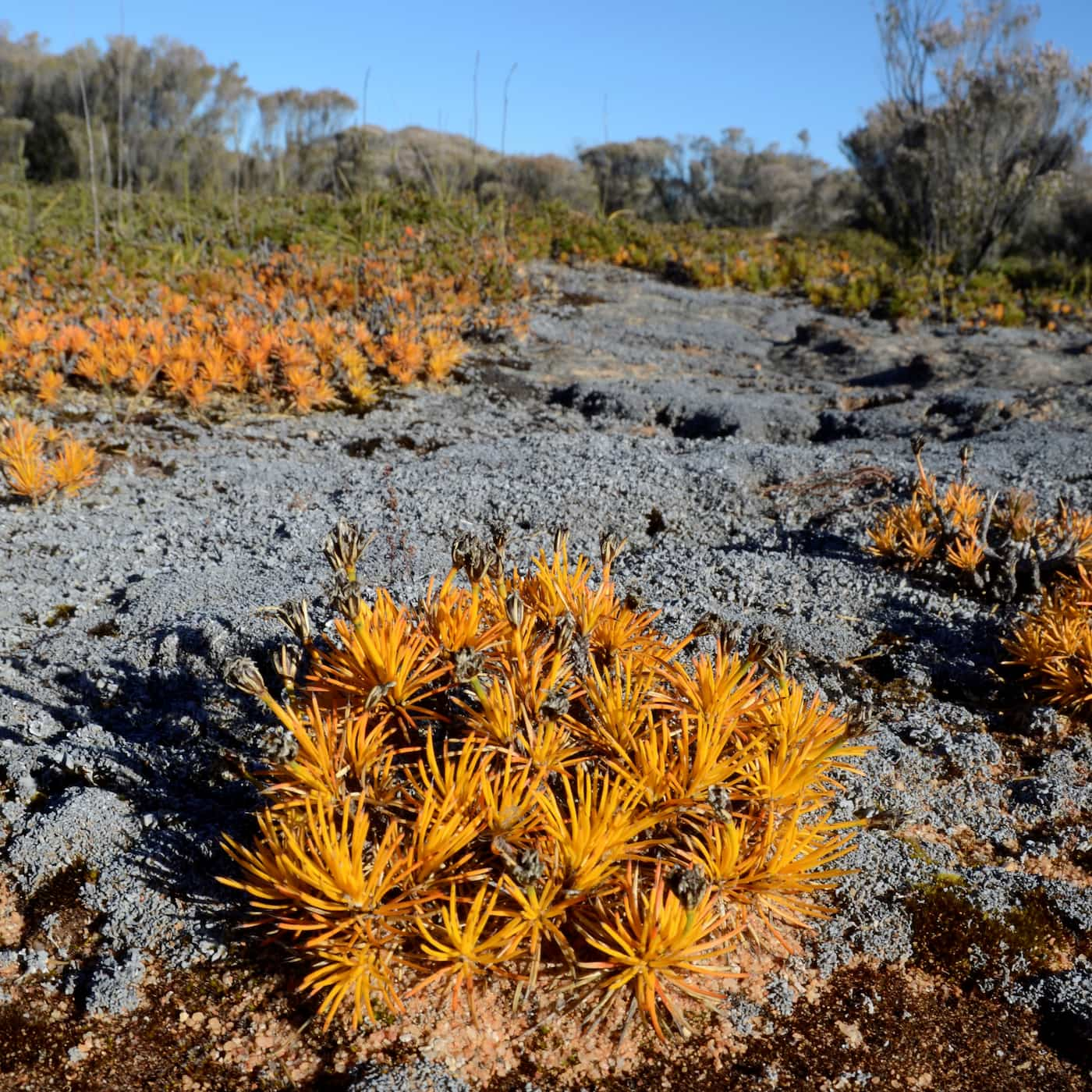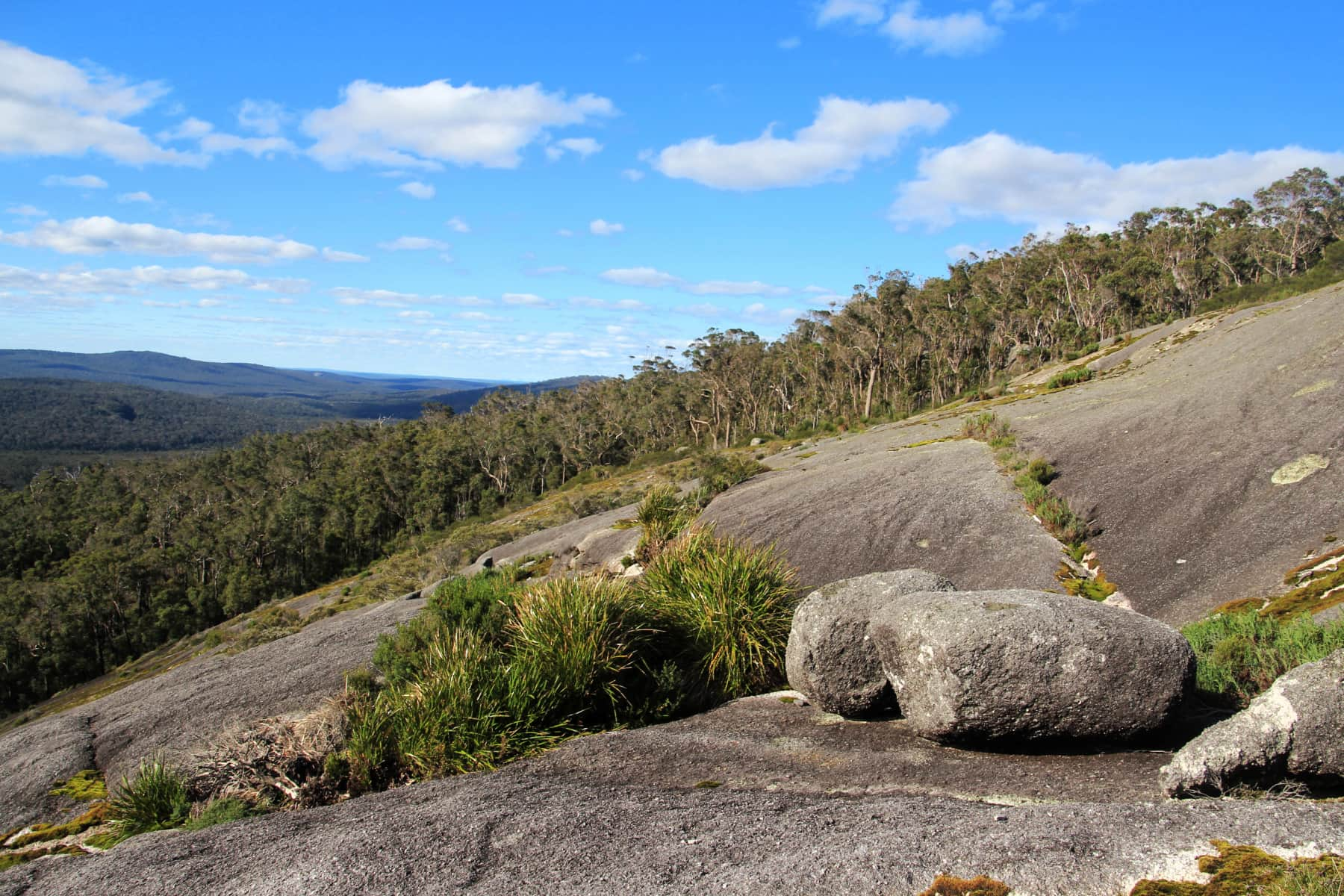 Fringing vegetation and habitat
Around the base of outcrops, soils are often deeper and benefit from seepage of water from the impermeable rocks, so distinctive fringing vegetation zones develop. In high rainfall areas, granite domes in the Mt Lindesay area near Walpole thus support Tingle trees and a suite of associated species of plants and animals that rely on the year-round moisture that result. In more arid environments woody perennials such as acacias, melaleucas, sheoaks and eucalypts may be found.
For fauna, granite outcrops provide crevasses and niches that are inhabited by an array of invertebrates, reptiles, birds and some mammals. Even fauna that don't rely primarily on granite outcrops for their habitats may find refuge there as the flatter areas surrounding them dry out over summer, or when the surrounding areas burn.
Granite Islands
Rich and diverse microhabitats have been created around the granite, thanks to the ability of the rocks to collect water and retain moisture. These microhabitats are often isolated from the surrounding flatlands, and so are like small ecological islands that remained after the climate became drier since the late Tertiary period (65 million years ago to 1.8 million years ago). Read more about island biogeography.
There are many examples of granite outcrops retaining relict disjunct populations of plants. For example, a relict outlier of Jarrah (E. marginata) survives at Jilakin Rock, 150km inland from the main forest population in the higher rainfall zone. The isolation of plant communities between granite outcrops has contributed to speciation. Granite endemics include Caesia (E. caesia), Silver Mallee (E. crucis), Granite Zunzea (Kunzea pulchella) and some orchids. (WWF, Southwest Australia Ecoregion)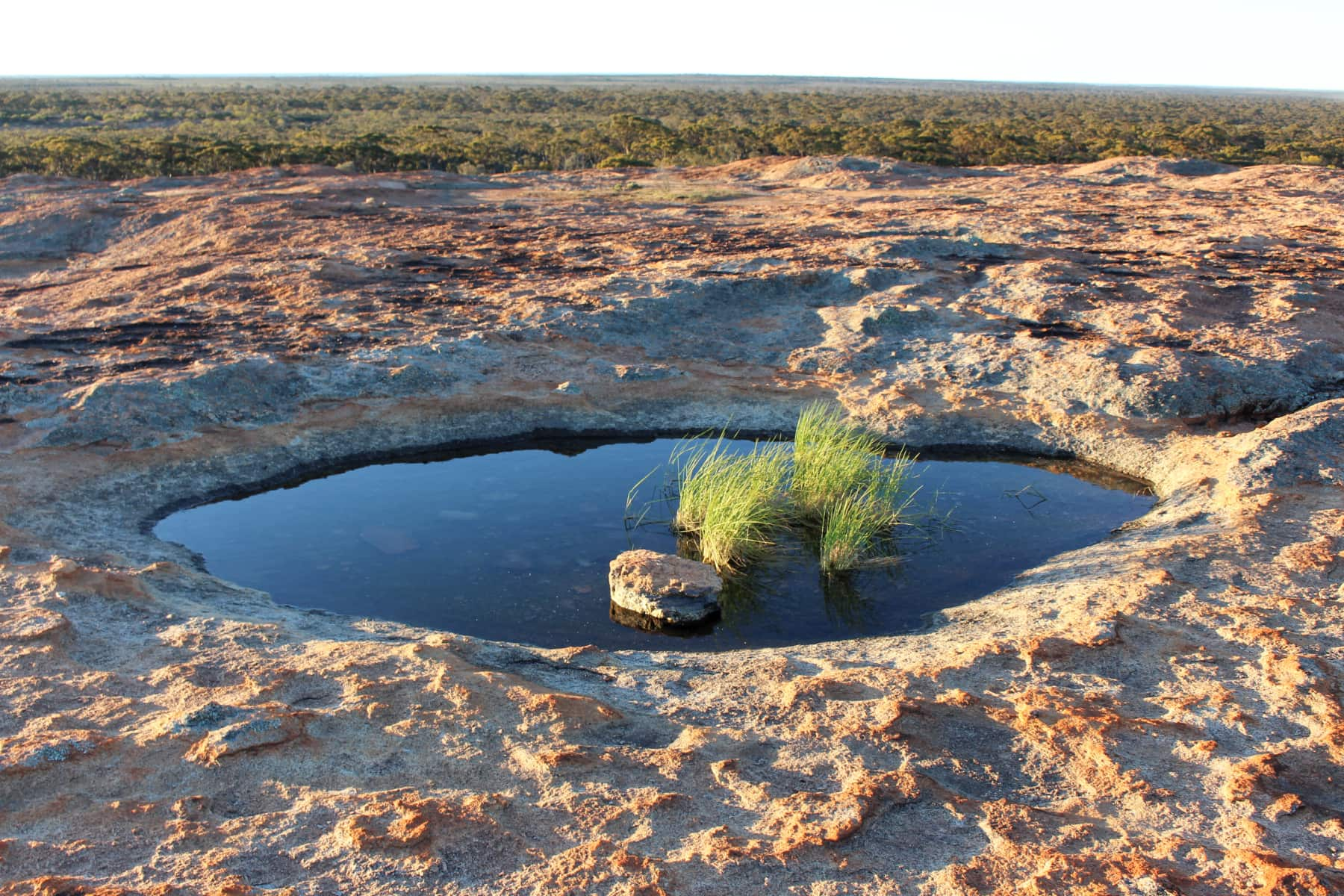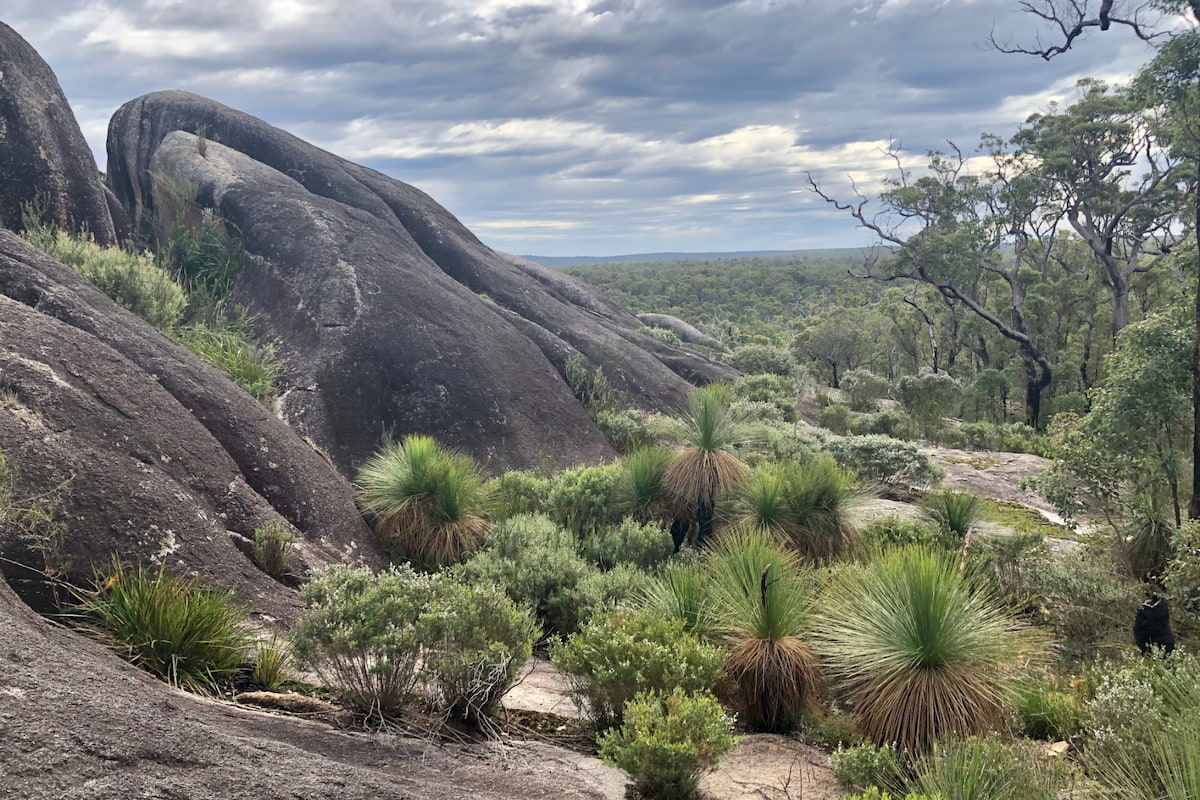 Protecting these special places
At least 1320, and possibly 2000, plant taxa occur on Western Australian granite outcrops, with individual outcrops having up to 200 species, including many endemics not found in surrounding habitats (Hopper et al 1997). Because these island ecosystems on and around granite outcrops are small and isolated from others and the populations of species are so small, the flora of granite outcrops is more endangered than flora elsewhere. 
Granite outcrops are impacted by weed invasion, grazing by domestic stock and feral animals such as rabbits, inappropriate fire regimes and the introduction and spread of Phytophthora dieback. Management of these impacts on these special places is therefore crucial.