Mobile Reception (Telstra)

No Pets Allowed
Lake Bryde is a special seasonal freshwater wetland – listed in Australia's Directory of Important Wetlands. 
It is just one part of the broader Lake Bryde catchment which also includes the nearby Lakeland Nature Reserve and East Lake Bryde. The lakes are located at the head of a chain of lakes that extend south to Lake Magenta Nature Reserve.
This part of the country is a broad, relatively flat valley, at the headwaters of the Lockhart River, which in turn is part of the Swan-Avon catchment – the network of salt lakes and paleo-drainage systems that become the Avon River inland of Perth. 
The Lake Bryde catchment is especially important for two reasons:
This is a wetland system where the water has remained relatively fresh in an increasingly saline landscape where most wetlands have turned salty due to widespread clearing.
The catchment contains the only occurrence of a Threatened Ecological Community of two plant species on the lakebed.
One of these plants, the samphire Tecticornia verrucosa can turn quite a vivid purple colour that covers the whole lake bed with a beautiful colour – a wonderful attraction in itself.
When the lake occasionally fills up, this is also an important recreation spot, and like many similar lakes in the Wheatbelt, a favoured spot for water skiing.
Noongar Boodja 
As a historically freshwater wetland this would have been a vital place for Noongar people, and there are numerous significant Aboriginal heritage sites nearby. 
Clearing in the Lake Bryde area mostly happened as part of the post World War 2 clearing boom, with much of the vegetation being lost during the 1960s, but some large scale clearing continued into the early 1990s.
A combination of factors seem to have led to larger areas of habitat remaining in this area than in other parts of the wheatbelt. By the time areas here were being alienated for agriculture in the 1960s there was considerable pressure on government to protect at least some of the wheatbelt's remaining biological heritage.
Additionally, the hydrological certainty of salinity problems if the paleo-drainage lines were cleared was also being increasingly recognised. Even so, large areas of relatively low lying land were allocated to farming and those areas left uncleared by the mid 1990s were protected as stronger clearing controls were established. Some farmlands, on the eastern side, were not alienated for farming until the late 1970s, and the then Department of Agriculture did require landholders to produce farm plans, which retained some belts of vegetation, before clearing commenced.   
Around 50% of the original vegetation in the East Lake Bryde catchment remains and over 40% remains in the Lake Bryde catchment – far more of the original habitat and ecosystems remaining than many other Wheatbelt catchments, where there can be as little as 5% left.
This extent of vegetation remaining is likely to explain why these freshwater lakes have not turned saline like so many equivalent lakes in the Wheatbelt.
The word 'lake' might feel like a misnomer when you first arrive at Lake Bryde, for it is most likely to be a dry expanse, quite possibly tinted purple or pink.
That colour comes from one of the plants that makes Lake Bryde and East Lake Bryde particularly important – the samphire Tecticornia verrucosa.
The ecosystem of Lake Bryde is a Threatened Ecological Community: 'Unwooded freshwater wetlands of the southern Wheatbelt of Western Australia, dominated by Duma horrida subsp. abdita and Tecticornia verrucosa across the lake floor.'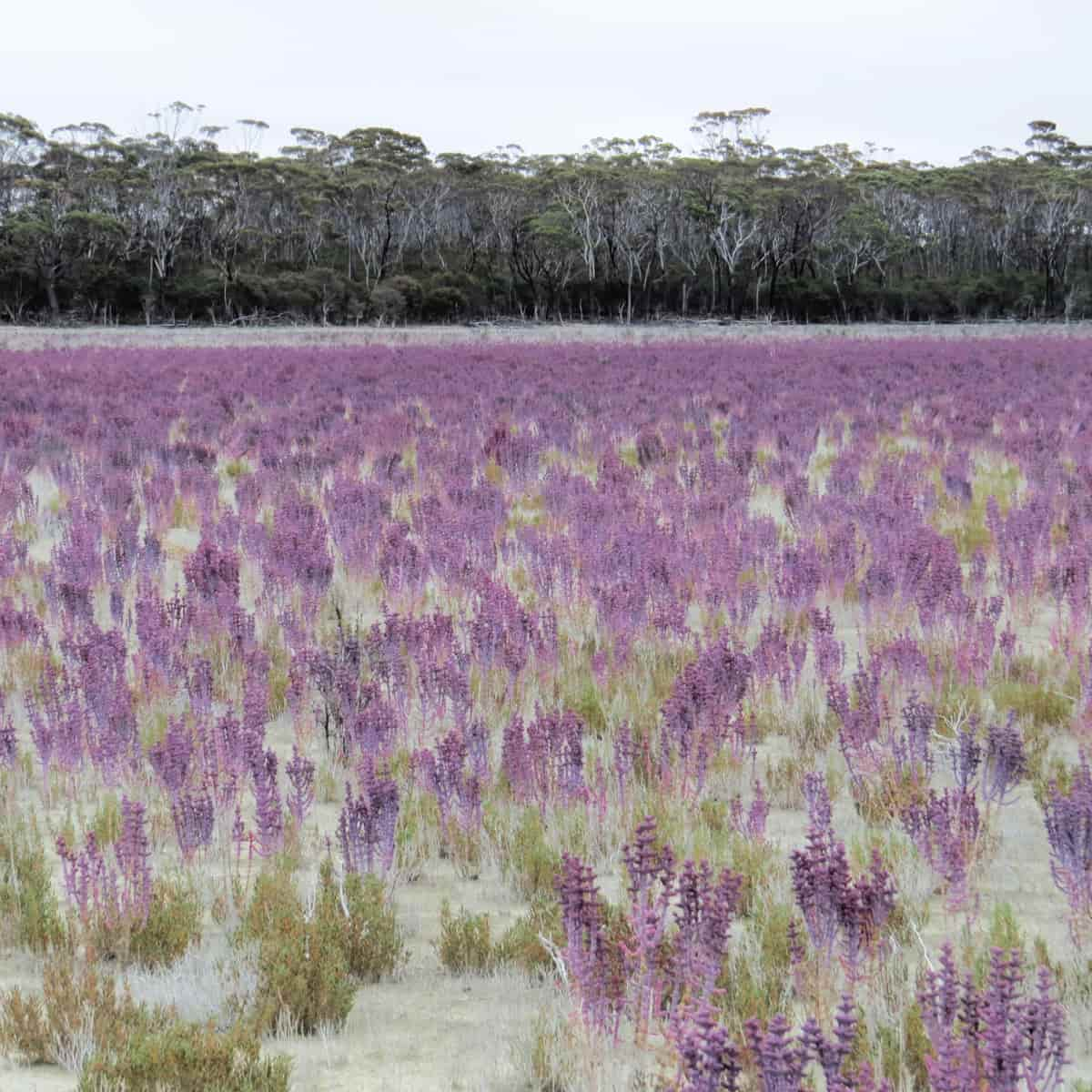 This combination of plant species is known only from two wetlands – Lake Bryde and East Lake Bryde. All other occurrences of this plant community are believed to have been destroyed by salinisation and increased waterlogging associated widescale clearing of native vegetation.
Threatened Ecological Community
The Duma horrida subsp. abdita Threatened Ecological Community occurs on the lakebed of Lake Bryde.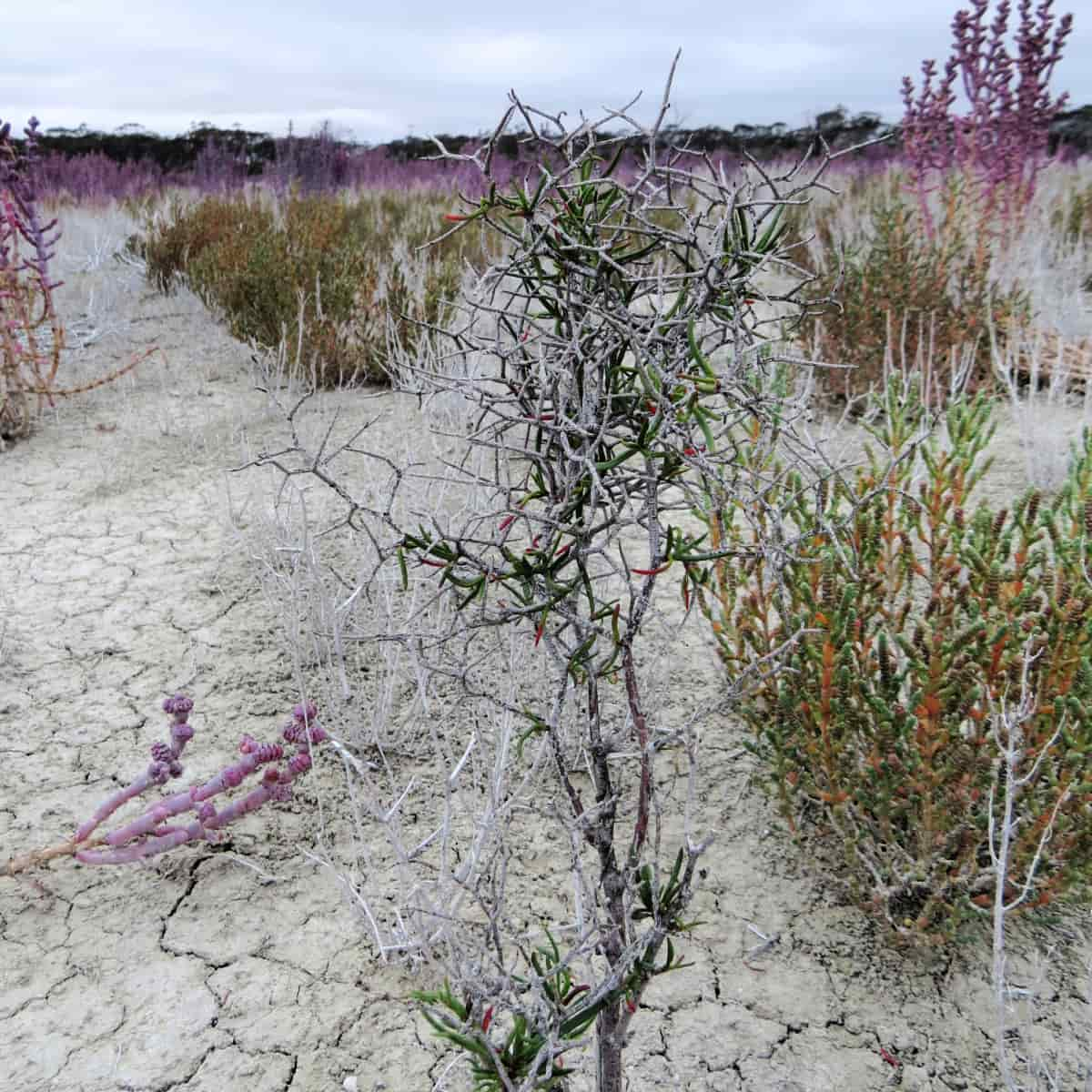 Duma horrida subsp. abdita
Image: Anne Rick
This is a Declared Rare Plant with a very limited distribution.
It meets the World Conservation Union criteria for a critically endangered species due to a reduction in population size, the subspecies existing at just two or three locations, and a continuing decline in the area, extent and quality of habitat. The main threats are salinity and inundation, recreational activities and poor recruitment.
 The species is restricted to this location in Lake Bryde and East Lake Bryde, where it grows in clay and silt depressions in freshwater wetlands.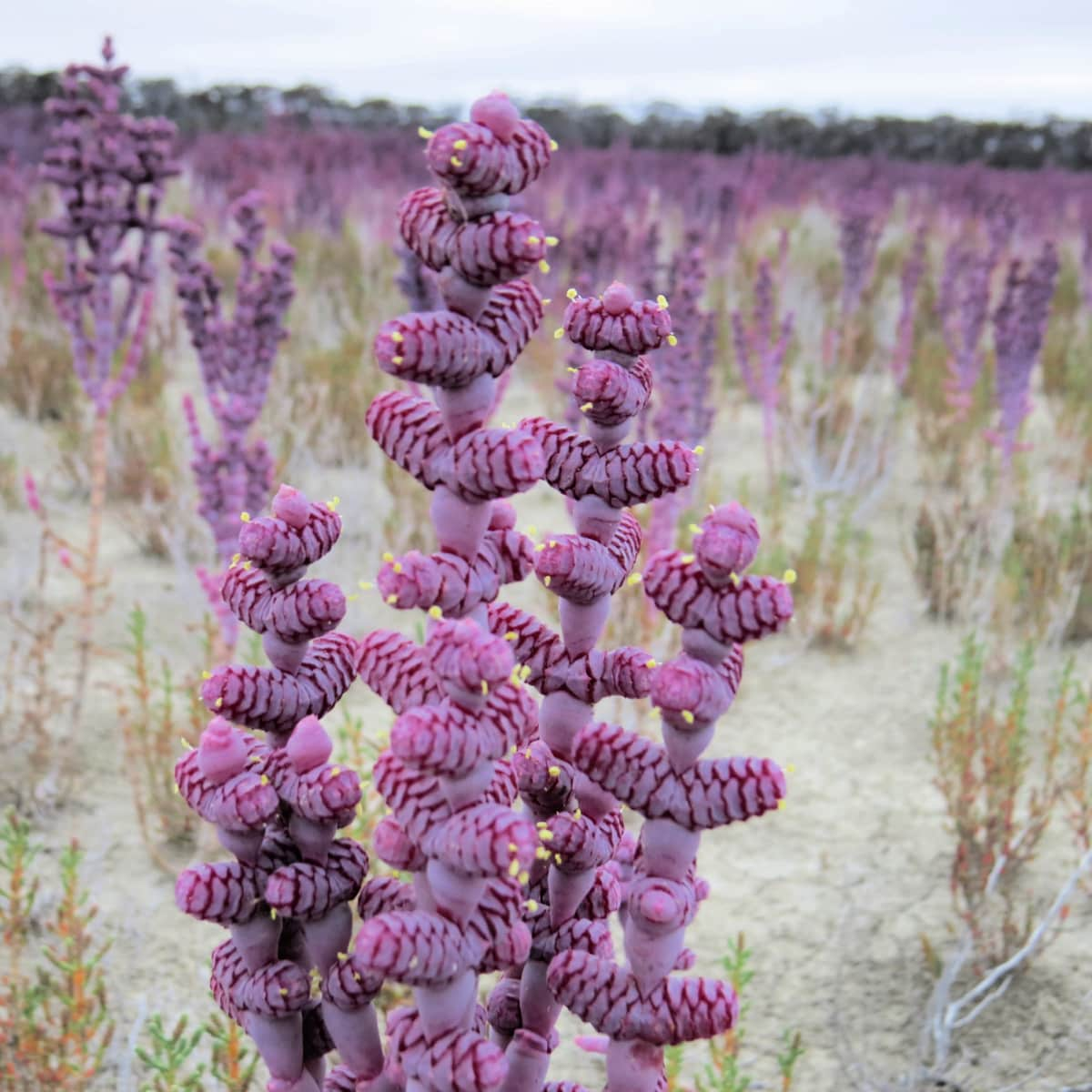 Tecticornia verrucosa
Image: Anne Rick
Tecticornia is a genus of succulent, salt tolerant species commonly called samphire.
Only one species of Tecticornia is found outside of Australia – otherwise this is one of many thousands of species endemic to Australia.
This is a spectacular succulent species, and so it is not surprising that it is valued by succulent growers around the world, including in places like the UK where the climate is so vastly different to Lake Bryde.  
These important plant communities depend for its survival on a regular cycle of relatively fresh water flooding followed by drying of the lake bed.
Lake Bryde Recovery Catchment
In the late 1990s, as part of the WA State Salinity Action Plan, the Nature Diversity Recovery Catchment program was developed. Catchments that were found to have high biological value and were under threat were identified as priorities to focus recovery actions, including: Toolibin Lake, Lake Warden system, Muir-Unicup, Buntine-Marchagee and Drummond.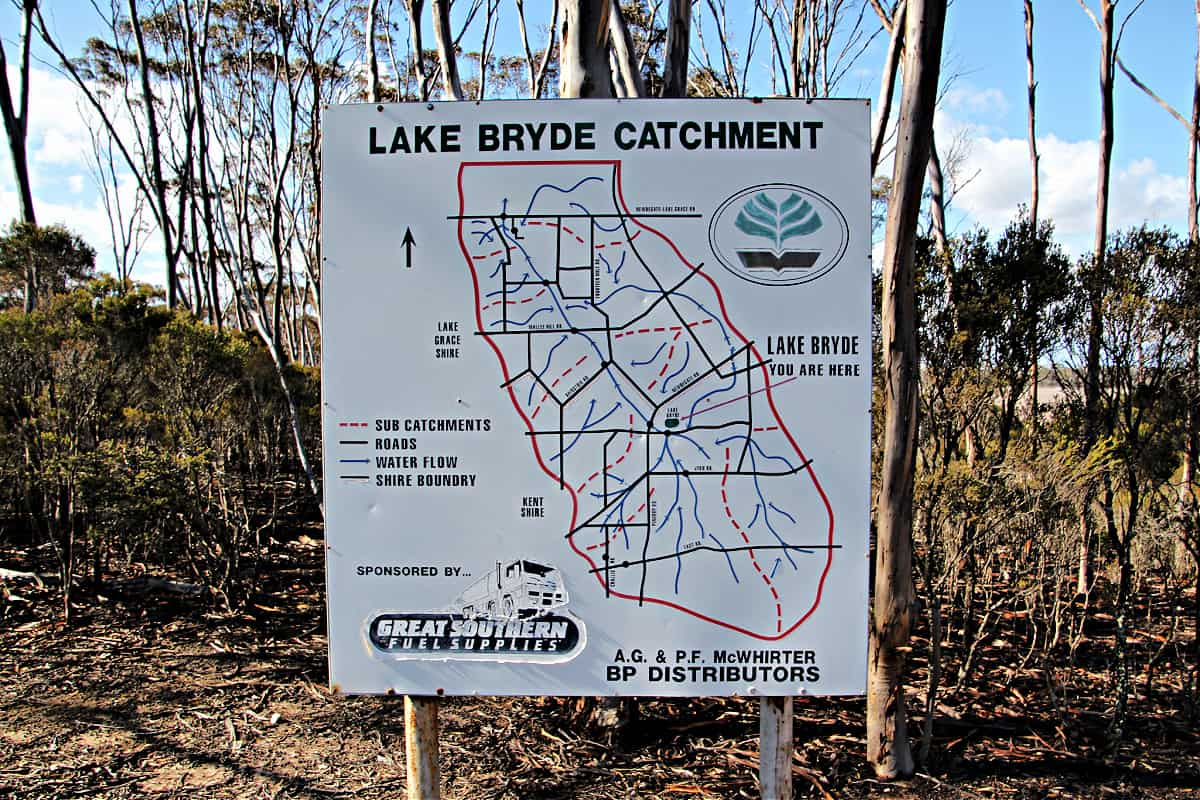 Monitoring in the Lake Bryde catchment had shown that salinity of the groundwater was increasing and waterlogging was also a risk. These hydrological changes would have a significant impact on the biodiversity values of the lakes in the catchment.
A waterway was constructed to prevent accumulation of surface water runoff at Lake Bryde and divert it into downstream wetlands.
Some positive impacts have been documented by scientists – for example after several years of mild salinisation, a filling of Lake Bryde saw the return of a freshwater invertebrate fauna, including species whose eggs had probably lain dormant in the sediment waiting for a return to fresh conditions. Implementation of the recovery program is still ongoing but is subject to limited financial resources.
Birdlife
In a landscape that has been heavily cleared, areas of remnant habitat and ephemeral freshwater wetlands like Lake Bryde are critical habitat for all kinds of fauna, including waterbirds and aquatic invertebrates.
Lake Bryde has up to 23 waterbird species, including the rare freckled duck. Up to 7 species of waterbirds have been recording as breeding at Lake Bryde.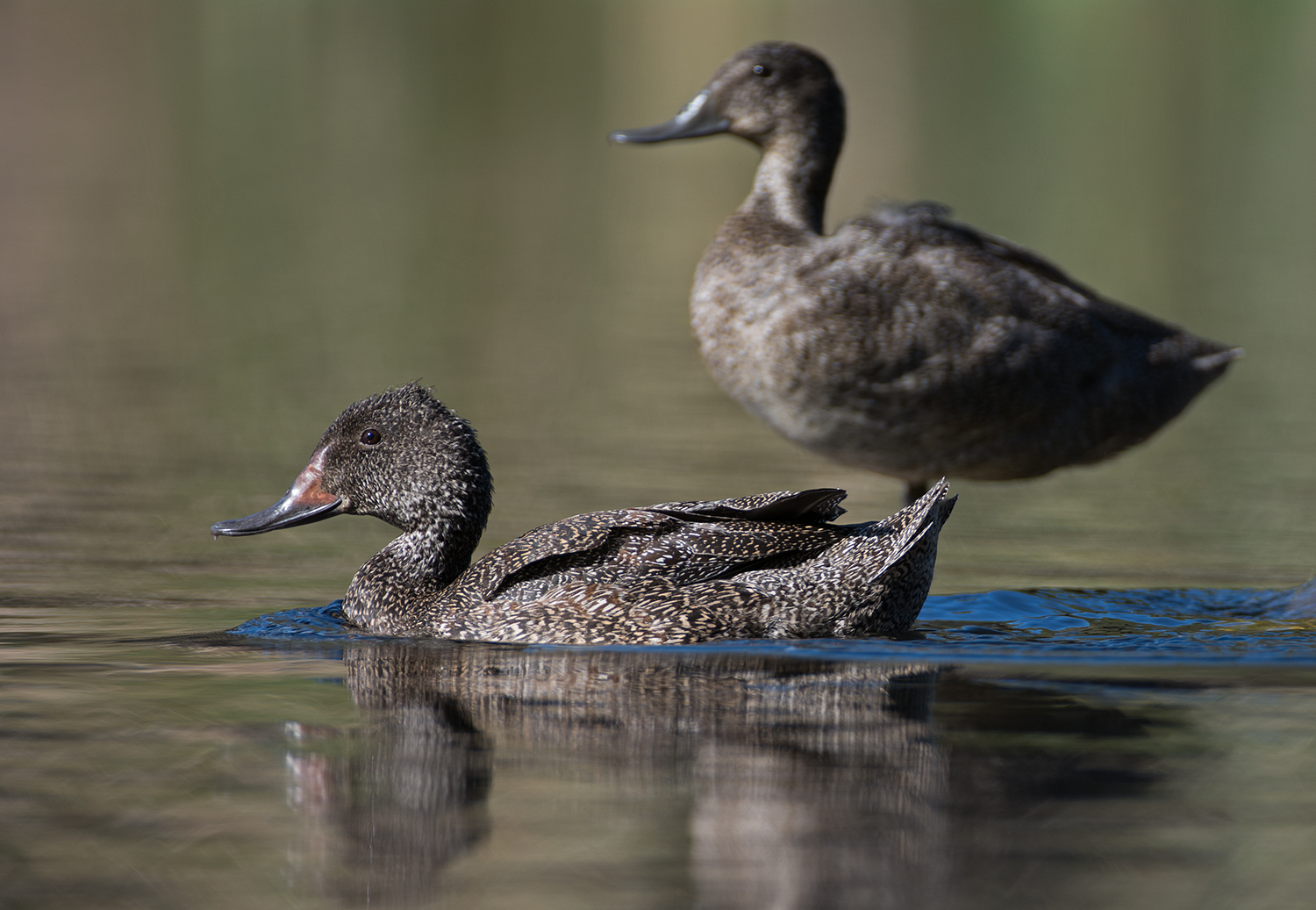 Australia's rarest waterfowl, the Freckled Duck breeds in swamps in inland Australia. When these wetlands dry out in the summer months, the Freckled Ducks are forced to disperse towards coastal and subcoastal wetlands, usually swamps where there is much fallen timber that they can loaf amongst. Sometimes, if there is a drought, there may be few of these wetlands available for them, so they may congregate into flocks on whatever wetlands are available, sometimes giving the impression that they are more common than they really are. Find out more from Birdlife Australia
Waterbirds that were observed at Lake Bryde when the lake filled in 2012 include, in order of abundance:
Plantlife
Apart from the special species mentioned – other plants to look out for at Lake Bryde include: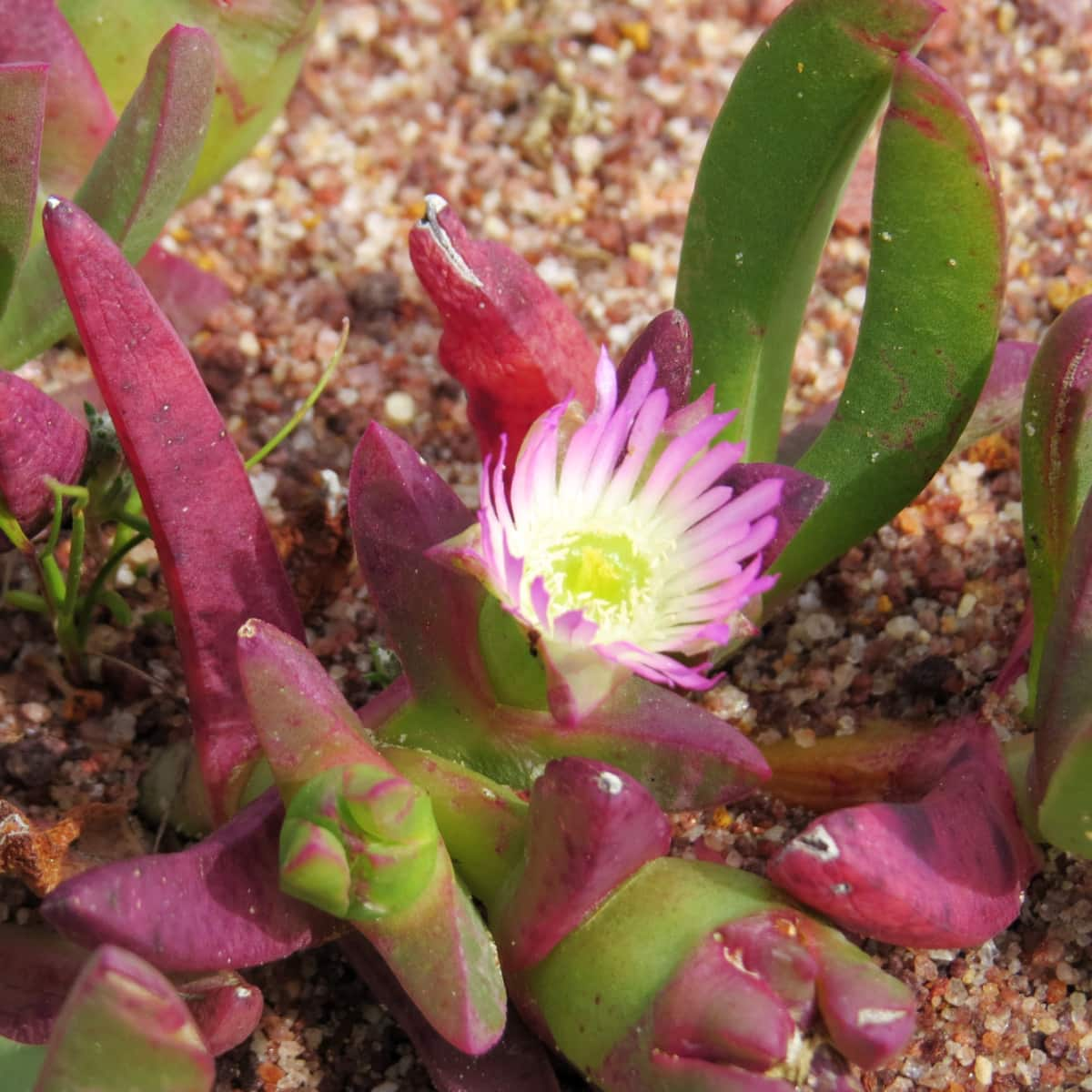 Inland Pigface (Carpobrotus modestus)
Image: Anne Rick
 Pigface was widely used by Noongar people. The juice of the leaves were used externally, much like Aloe Vera, to treat all kinds of bites, cuts, and other skin conditions.
Infusions of the crushed leaves were used to treat diarrhoea, dysentery and stomach cramps, and as gargles to relieve sore throats, laryngitis and mild bacterial and fungal infections of the mouth. Noongar people also ate the fruit, fresh or dried.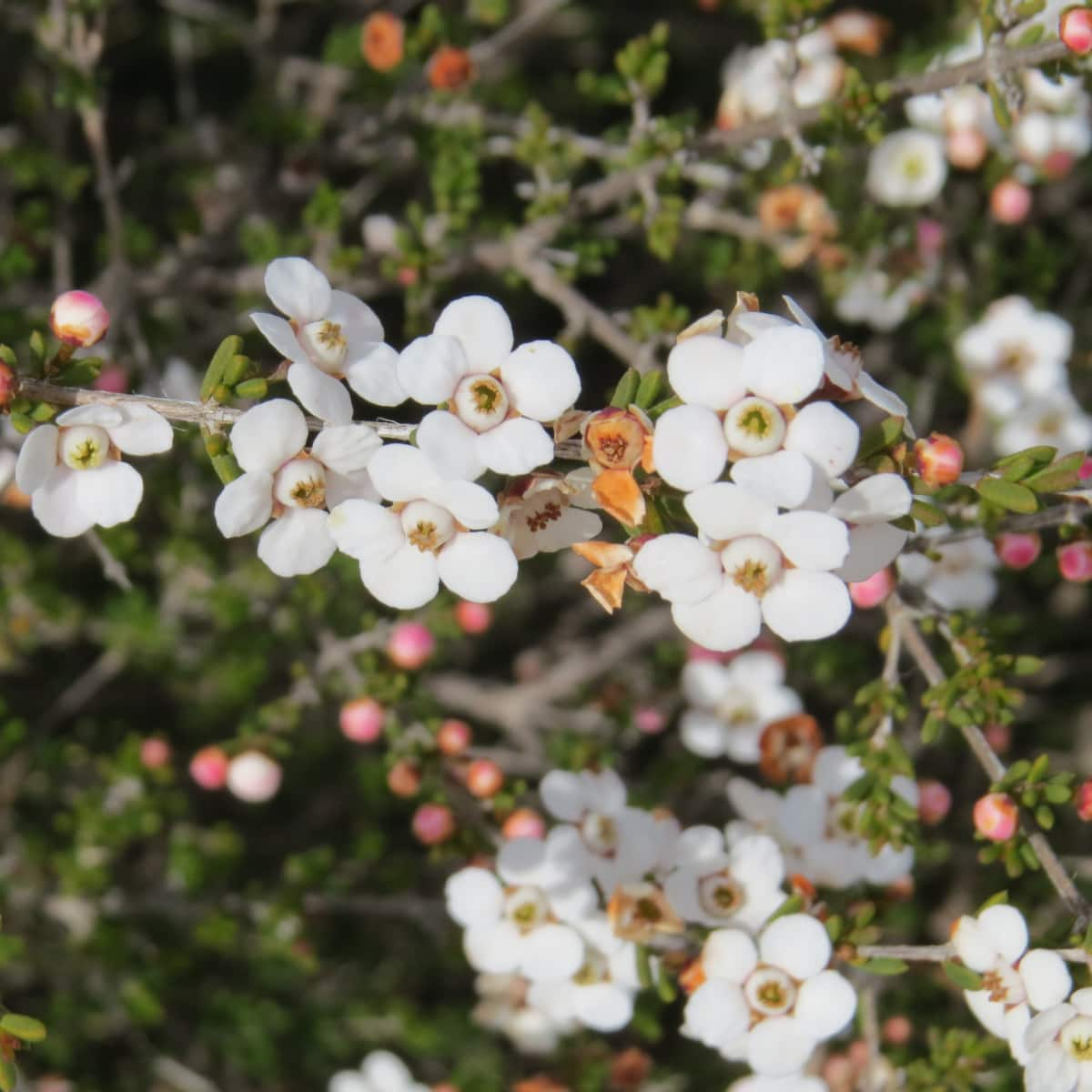 Cyathostemon tenuifolius
Image: Anne Rick
Often found around swamps, along creek banks, on gentle slopes or on breakaways along the south coast in the Great Southern and Goldfields-Esperance regions of Western Australia where it grows in sandy-loamy or sandy-clay soils over granite or spongolite.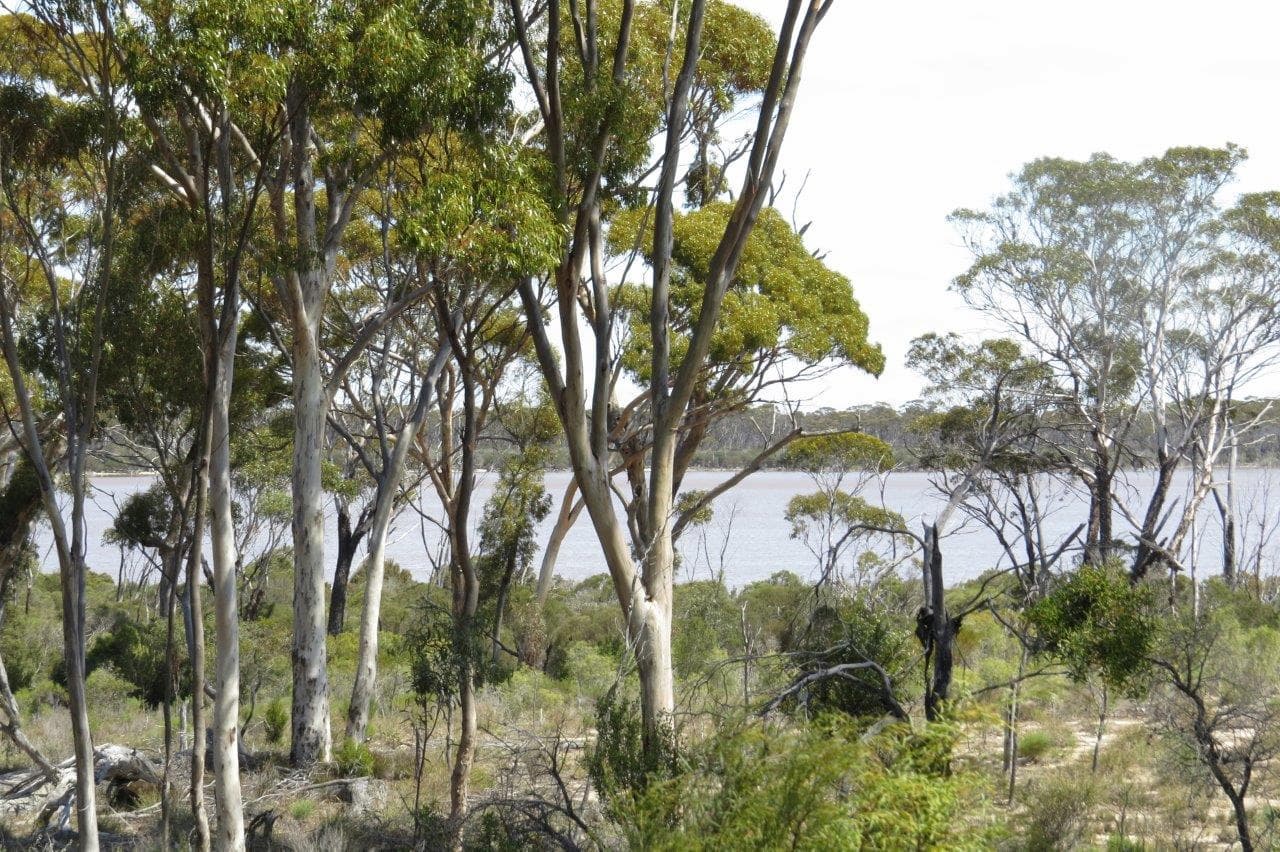 Salmon gum foreground with flat topped yate next to Lake Bryde
Image: Anne Rick
Around the edges of the lake are a range of Melaleuca species – including M. halmaturorum, M. lateriflora, M. atroviridis, M. brophyi, subsp. lateriflora.
Further away from the lake the vegetation turns into mallee woodland over the melaleuca shrubland, with other eucalypt species like the Flat-topped Yate (Eucalyptus occidentalis) and the mallees – Burngup mallee (E. sporadica), Fine-leaved mallee (E. perangusta) and E. suggrandis – all of which are endemic to south-western Australia.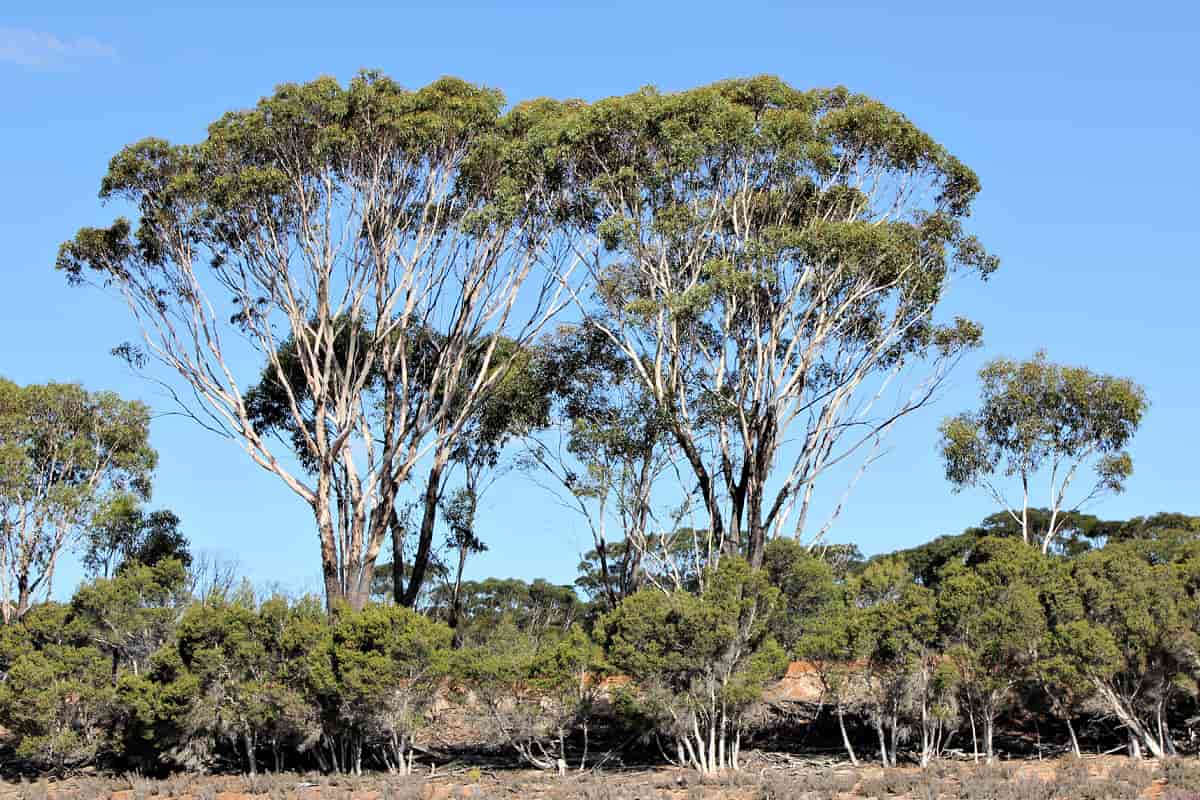 Swamp Yate (Eucalyptus occidentalis)
Image: Anne Rick
'Occidentalis' means western, which refers to the occurrence of the swamp yate in the west of Australia. It is common in alkaline clay soils, often around wetlands and watercourses, and winter-wet depressions.
Walk trails 

There are no formal walk trails at Lake Bryde, but there are plenty of tracks through the reserve, as well as open woodland that is easy to walk through.
Directions
From Pingrup take the Newdegate-Pingrup Rd, then turn right onto Lake Bryde Rd. 
Closest towns
Pingrup – 40km via Nyabing-Newdegate Rd
Newdegate – 44km via Nyabing-Newdegate Rd
Where to eat and stay
See the suggestions from our friends at Great Southern Treasures: