Toilets Available

Disabled Access

Picnic Areas

Mobile Reception (Telstra)

No Pets Allowed
On the outskirts of Ongerup is Yongergnow Australian Malleefowl Centre, a multipurpose facility dedicated to Malleefowl conservation and to local community development.
The Centre includes a gallery housing temporary exhibitions including Noongar and other local art. There is an informative multi-media display area where you can learn more about the conservation of the Malleefowl and local history. There is also a café and shop where you can purchase Ongerup and Malleefowl souvenirs, wildflower and bird publications.
The Centre is surrounded by 5 hectares of native bush in which two vermin-proof aviaries house Malleefowl that are part of a captive breeding and release program aimed at increasing the population of these remarkable birds.
There are two short bush walk trails through a diversity of native plants that have been labelled by local and regional wildflower enthusiasts. From the walk trails, you can also spot native birds, including Purple-gaped Honeyeaters which feed on the flowers of the moort trees.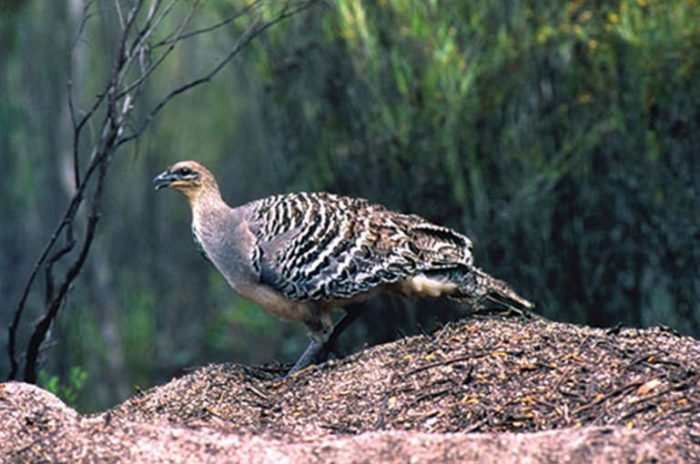 Image: Yongergnow Malleefowl Centre
Yongergnow is within the Shire of Gnowangerup, a name derived from gnow, the Noongar name for the Malleefowl.
While the area derived its name from the preponderance of birds prior to colonisation, by the early 1990 there were fewer birds being seen as their habitat was cleared and they became more susceptible to foxes and cats.
The Malleefowl Preservation Group (MPG) Inc was formed in 1992 to protect the species and spread awareness of their plight. Amongst their activities were revegetation to link remaining bushland remnants with suitable Malleefowl habitat, and extensive surveys of Malleefowl nest sites and nesting success.
Recognising the low rate of survival of hatchlings in the wild, the MPG joined forces with Ongerup Community Development Inc to raise funds to build the Centre which opened in 2007.
The construction of vermin-proof enclosures allowed the volunteers to attempt a bold conservation project: to transfer eggs into the enclosures so that the emerging chicks would not have to cope with foxes and cats and so improve their chances of survival.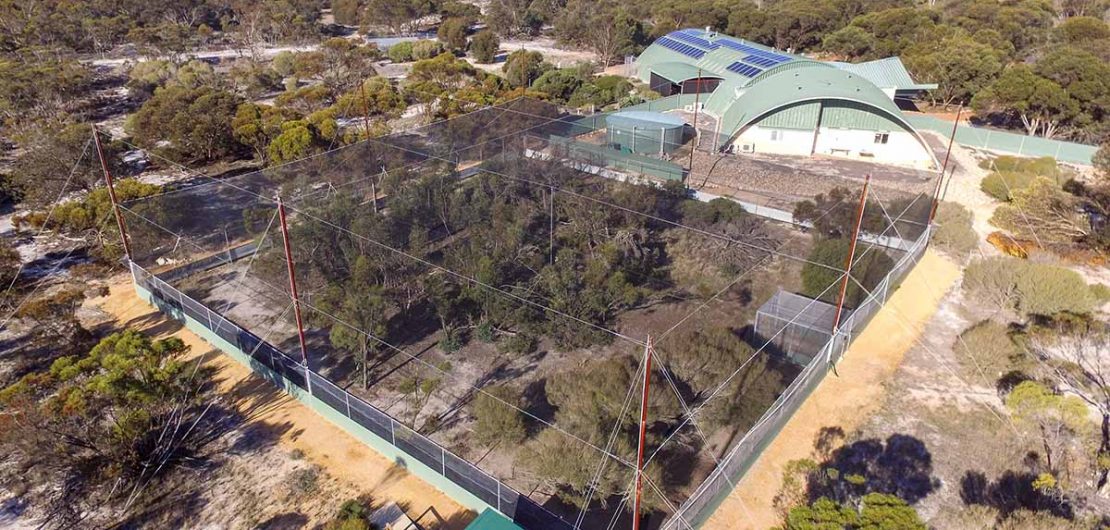 Image: Yongergnow Malleefowl Centre
Yongergnow has achieved rates of 60-80% survival of the chicks raised there, compared to an estimated 1-2 % survival rate in the wild. By 2016, thirteen chicks had been released into predator-free Malleefowl habitat outside the Centre.
Pairs of adult birds have also bred within the enclosures at Yongergnow, with their chicks adding to the population available for translocation to other secure habitat.
Malleefowl, the Mound Builders
Malleefowl (Leipoa ocellata) belong to a family of 22 bird species known as megapode" meaning "big feet". Most megapodes are found in high rainfall tropical and subtropical regions, including the brush turkeys of the east and north coasts of Australia. The Malleefowl is the only megapode that inhabits arid and semi-arid areas.
Once common and widespread across southern and central Australia, their numbers have seriously declined over the last 100 years. Malleefowl are classified as "fauna that is rare or likely to become extinct" in Western Australia and is listed as a threatened species nationally.
Described as a ground dwelling bird, Malleefowl will take flight to roost in trees overnight and to escape immediate danger.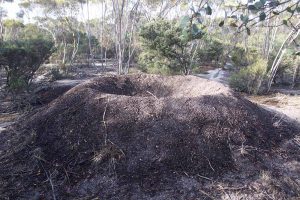 Image: Yongergnow Malleefowl Centre
One of the extraordinary features of the Malleefowl is the elaborate nests that adult pairs construct. The adult pair may spend 9-11 months per year building and maintaining a large incubation mound of soil, leaves and twigs.
The eggs are laid in the mound, buried and left to incubate by heat generated from composting litter.
 The birds maintain the mound temperature of 32-34 degrees by using their sensitive beaks as a thermometer and adjusting soil cover to either retain or expel heat from the egg chamber. Towards the end of the breeding season (February – March) when heat generated from litter fermentation has diminished, solar energy is harvested by spreading and returning mound soil heated by the sun.
Malleefowl mounds may be used over many generations and can attain an impressive size of 22 metres in circumference and one metre high. Breeding densities vary. Surveys in South Western Australia indicate an average population of 2 active mounds per square km in 400 mm rainfall mallee habitat areas like the Ongerup region.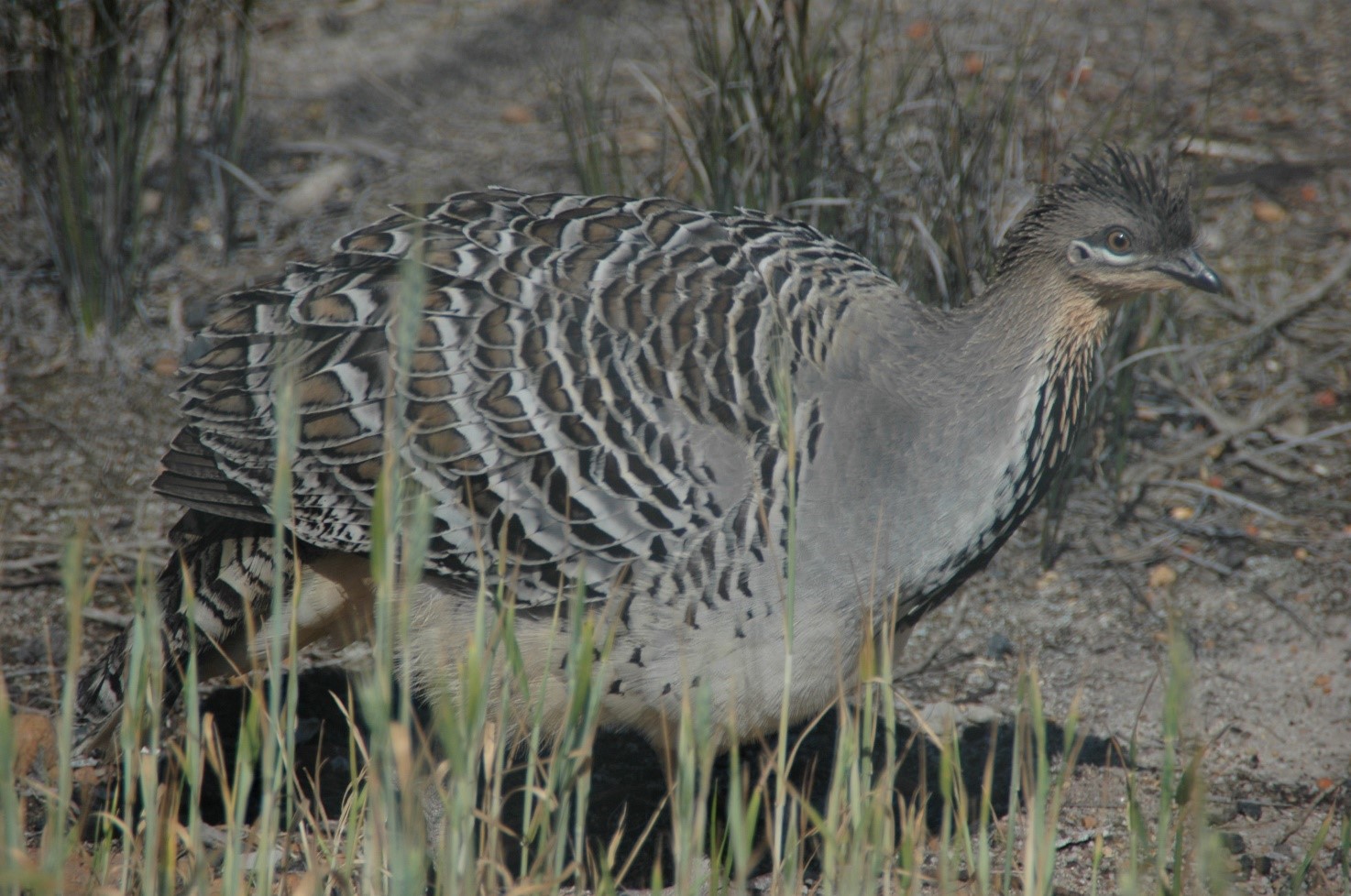 Learn about Malleefowl
Spend some time viewing the displays and learning about the Malleefowl and the conservation efforts being made to protect them. View the Malleefowl themselves in their enclosures.
Report a Malleefowl sighting
Yongergnow Malleefowl Centre has an online form where you can report a sighting of a malleefowl.
Walks
Two short signposted walks are available.
Wildflowers can be viewed here in season and there are plenty of other birds as well as the Malleefowl.
Wildflower and Orchids 
Wildflower season starts about the end of September and through the end of November.
There is a short (about 1km) walking trail and during wildflower season it has up to 20 different species of wildflowers.
Every year the Ongerup Wildflower Show is held at the Ongerup Museum on Eldridge Street, starting around the middle of September and going through to the first week of October.
More information on the Ongerup Wildflower Show, including special events, can be found on their Facebook page 
Giving back and getting involved
Yongergnow is a community organisation and so relies on membership and donations to continue their important work to conserve malleefowl.
Contact them directly to donate to their wonderful work:
Entry Fee
There is an entry fee payable to visit the displays, aviaries and sanctuary. This fee helps to maintain the Centre and the important conservation activities. 
Opening Hours
Yongergnow Malleefowl Centre is generally open Tuesday – Saturday from 9am to 4pm.
Check first during school holidays for additional opening times, especially Sundays in September and October when the wildflowers are in full bloom.
Facilities
At the Centre there are toilets and a café as well as walk trails and the gallery and displays. The parking area will accommodate caravans and trailers.
Pets
Pets are not permitted in the Centre or the surrounding sanctuary, but can be left safely tethered by the parking area where water is available. 
Closest towns
Ongerup – 1km
Gnowangerup – 34km
Jerramungup – 65km
Where to eat and stay
See the suggestions from our friends at Great Southern Treasures: