Ancient range reveals totems
by Wendy Barrett, first published in Southerly Magazine, February 2020
WENDY BARRETT talks to Vernice Gillies, Larry Blight and Ron Grey about the powerful connections between the Porongurup Range and the Menang people.
AS you scale the boulder-strewn path towards Hayward Peak in the Porongurup Range National Park, there is a stirring of something primal.
The ancient granite landscape evokes a sense of sacred timelessness which is felt more profoundly the higher you ascend.
Up high there is less disturbance of the landscape. Lower down are reminders of the logging that began in the late 1800s when stately Karri giants were cut down for their timber.
Some venerable specimens remain but we can only imagine what gargantuan beauties lived here before Europeans came to the area.
Porongurup is an ancient mountain range in an ancient land – known to the original inhabitants of the area as Borongur.
Forty-eight kilometres north of Albany, the 12km long and 3km wide range has been weathered down to its current picturesque granite domes over the course of hundreds of millions of years.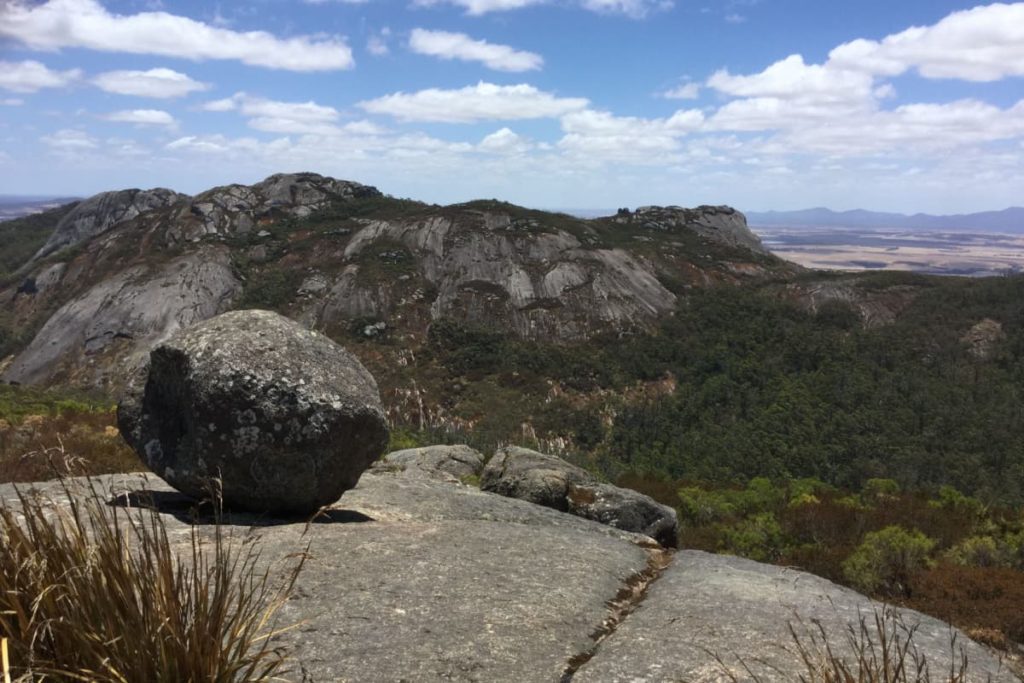 It is home to over 700 species of native plants, a significant number in such a relatively small area of less than 3,200 hectares.
Where Europe sustained geological upheavals as recently as 20,000 years ago in the last ice age, this part of Australia, in contrast, has remained untouched by glacial covering for over 250 million years.
This lack of disturbance allowed the flora to evolve and diversify in a myriad of magnificent ways, and the South West of Western Australia boasts many thousands of plant species because of it.
The Porongurup Range is a refuge for many of them as well as being rich in wildlife and insect species.
Not only is Porongurup rich ecologically, but also with Aboriginal cultural and spiritual significance.
The local owners of Aboriginal art gallery Kurrah Mia and a tour company have intimate ties with the range.
They all belong to the Menang people of the Albany region, one of four Noongar peoples in the area that also include the Wirlomun (Gnowangerup), Pibbulmun (Denmark) and Goreng (Plantanganet) people and who all hold the Porongurup range especially important, both culturally and spiritually.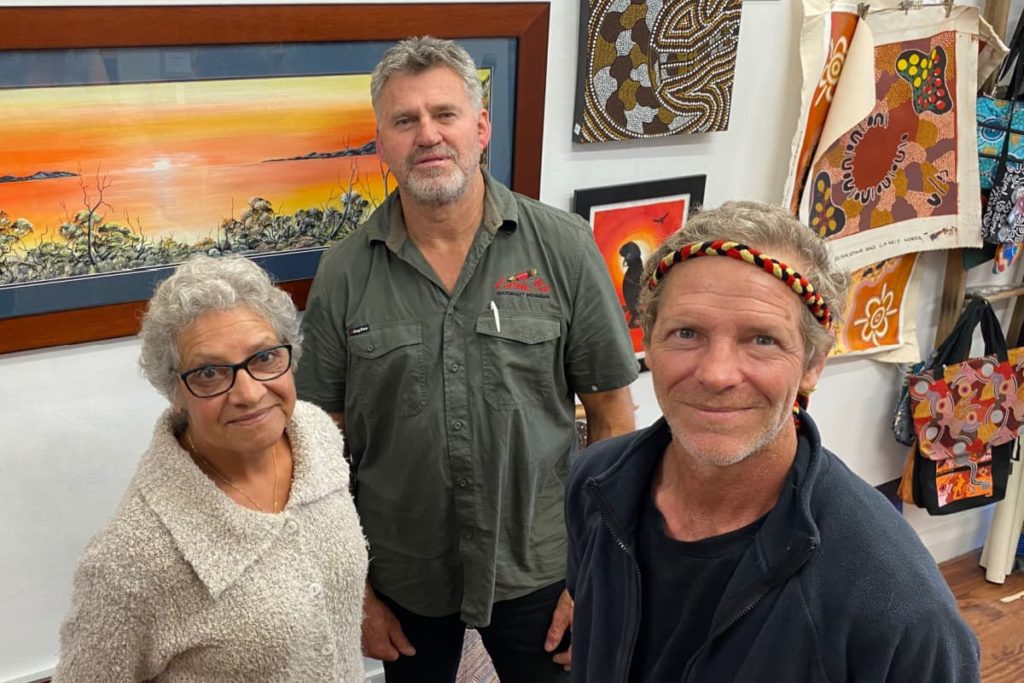 "Porongurup is our most culturally sacred site in this particular region and it is of significance to the whole Noongar nation," said Vernice, a Menang Elder.
"My dad, Syd Coyne, was a Noongar bushman born near Borden and his close friend, Sam Williams, a Goreng Elder, was the last traditional fire manager in the area.
"They both had a strong connection to Borongur (Porongurup).
"My mum was part of the stolen generation, taken from a station outside Carnarvon to Mugumber Mission at Moore River, so her connection to country (Boodja) was fractured."
Vernice also grew up hearing her grandmother's stories of the area.
"Fathers can only pass on their traditional ways to other men, but I still learned a lot about boodja through the stories he told us," she said.
All these influences instilled a passion within her for her cultural heritage and she now runs cross-cultural awareness workshops in the Great Southern.
Vernice's first totem came to her automatically through her mother. She gained the red-tail black cockatoo – karrak, and the crow – wardong, from her father's side.
Her father Syd was a strong influence in her son Larry's life.
"Pa was held in such high regard," Larry said of his grandfather.
"He told me stories about plants and animals and would take me out into Boodja with him to learn the traditional ways.
"Traditionally, every young person, male and female, would go to Porongurup to find their second totem – everyone automatically has a totem passed on from their mother's side.
"From my nan I got the red-tailed cockatoo and, if it was in traditional times, I would have gone up to Porongurup to find my second totem.
"It would be during the day only and into the high country.
"As a young person just reaching maturity, they would go and find a spot and just wait and something significant would happen to them.
"Perhaps this is their sudden realisation that they are no longer a child but are now an adult."
Larry said the first animal, tree or feature they saw would be their next totem.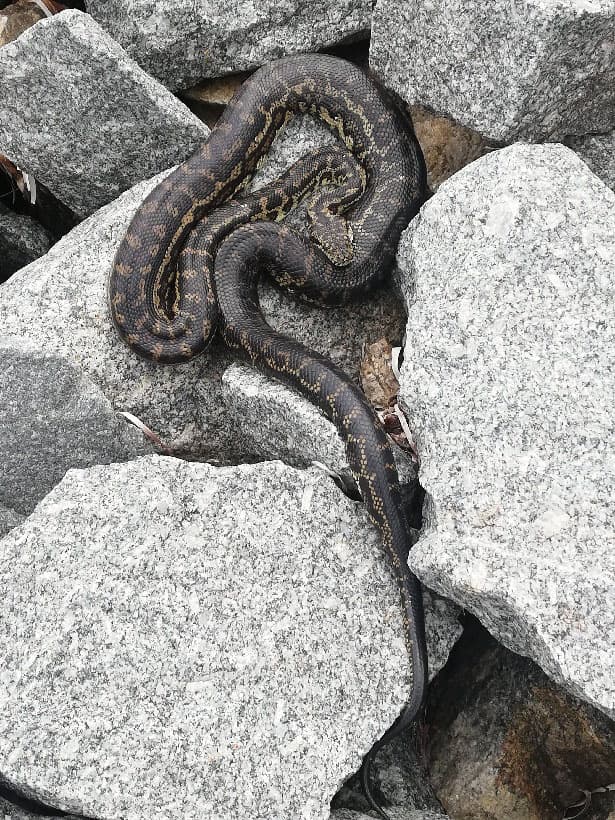 "That was the only time that people could go up there," he said.
Sometimes it could take weeks for a totem to make itself known to the young person.
Larry said they would need to camp at the foot of the range, as it was forbidden to be on the slopes at night.
"For me, my very first totem was about getting to the age that I actually recognised totems and their values," Larry said.
His first totem was handed down to him from his grandmother.
"Nan's totem was the karrak and my grandfather's totem was the crow – the wardong – that he got from his mother," he said.
"He had to go up to the Porongurup to find his second totem. So Pa spent time up there when he was around 13 years old.
"It was a very significant place. We're talking about the 1920s.
"When Pa had a realisation that he was no longer a child and could see the role he would have to play in society, the first animal that came up to him was a little bobtail – youern.
"That became his second totem."
As well as his grandmother's totem, Larry also inherited his grandfather's two totems.
"I certainly had an affinity with all three of those," he said.
"I went up there by myself just in case I wanted to find my fourth totem, but I don't need to go up there anymore as I have my totems and know my roles.
"It was a very spiritual and significant time for me. That place is still so alive with spirit."
The strong influences in his life have helped to shape him and, in turn, will help shape the next generation.
"My pa and my grandmother, they certainly told me how to protect the animals and respect nature and I'm passing that on to my son," Larry said.
"I have a seven-year-old and we go walking through the bush and I show him all the bush foods.
"He's learning a lot of language when we go out on country. When my young fella is old enough, I'll take him up to Porongurup to find his second totem."
Once a totem has been established, it is the responsibility of that person to always care for their totems while out in country, whether it be an animal, a tree or a waterway.
"In effect, it was like having a whole country of wildlife officers," Larry said.
Ron's totem came to him later in life.
"It was about 20 years ago through my mother when she passed," he said.
"A kangaroo came to us and it was doing funny things. It visited the house and hopped up the stairs and it looked at us and I knew it was my mother.
"The kangaroo became my first totem.
"With the second one, I was at Porongurup by myself. I was just attracted to go there this day. I heard the bird, the kurak, and went to take some photos of it, and underneath where it was sitting was a lizard trap – karda mia."
Ron said the totem could have been the bird or the lizard trap. He feels a connection to both.
"Totems don't have to be an animal. Now I see the bird wherever I go, and I find the feathers very powerful," he said.
Ron explained that when they see lizard traps they know that people had been there long before.
The traps could have been placed there tens of thousands of years ago. He knows of five or six lizard traps at Porongurup.
Lizard traps are large, flat rocks placed strategically to trap and farm racehorse goannas which are a prized food.
They are used for not only trapping but also for breeding local reptiles, an early form of animal husbandry.
"I find a lot of lizard traps and stone structures around the base," Ron said.
"I am attracted to rocky outcrops. There are so many interesting things to find and I take a lot of photos."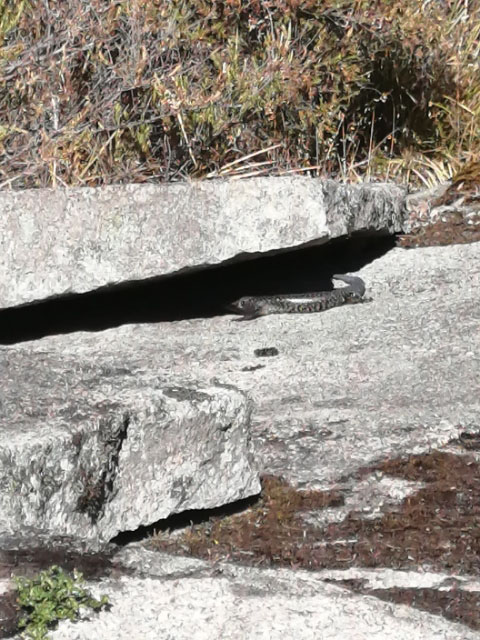 Porongurup was the winter home for the traditional custodians, particularly the northern slopes.
Bluff Knoll in the Stirling Range is also a very significant site and links up with the Porongurup. "The lowlands between the Stirling Range and Porongurup range was full of valleys," Ron said.
"It was full of beautiful waterways and lovely bush country. It would have been a winter paradise."
Vernice said they would have been protected from the harsh elements off the south coast.
"Everything was shared. Aboriginal people didn't work with nature, they were part of nature," she said.
"We were the first conservation land managers."
Ron said getting out into the bush was very healing and peaceful.
"We look for bush foods and for stone artefacts," he said.
Vernice said when they have bush food workshops coming up at schools, they head out into the bush to find it.
Larry said it was traditional for women to leave food offerings around the base of Porongurup for the spirits.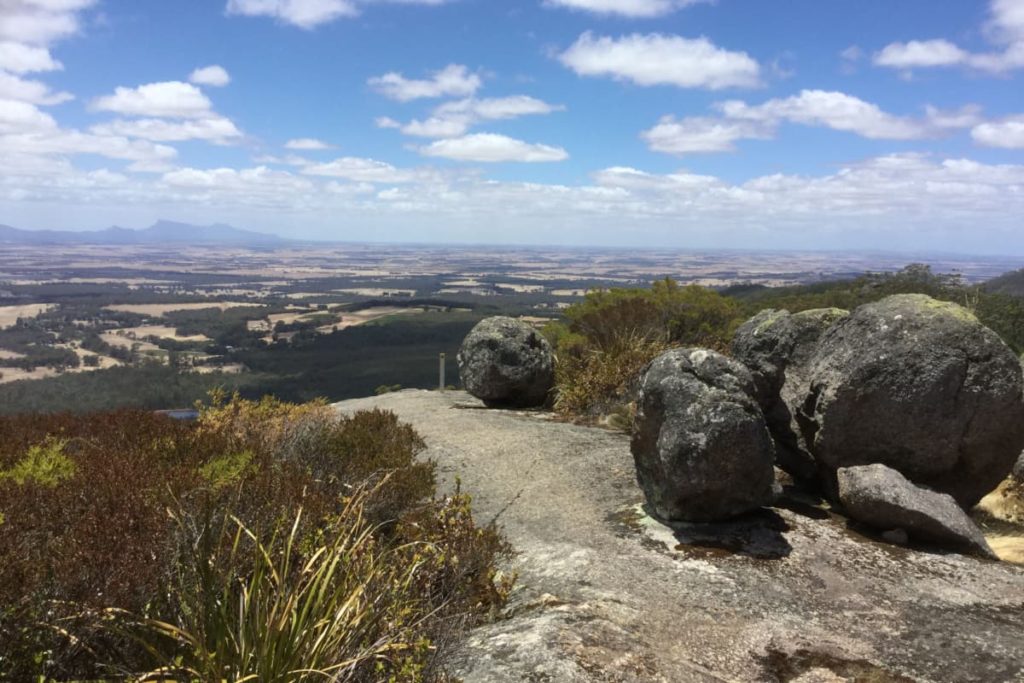 "Porongurup is also the home of our little people, Larry said.
"Here we call them Mummery. Other parts of Australia have different names for them.
"They were here before us and they were always the carers of the country.
"We think they live in two domains, in the physical and the spiritual, and they come and go between the two.
"They're very real. This is the difference between the cultures – we really believe they exist.
"If anyone was to cut down some trees on land they are living on, they would torment you – not to harm you, but to scare you."
It is because of the little people that they can only be in the lowlands at night.
"The uplands are where the little people live and is off-limits for others outside of daylight hours," Ron said.
If it took days or weeks while waiting for a totem to come to them, they would need to come back down to the base to camp.
Under no circumstances would they be high on the slopes at night.
While hunting kangaroo or emu, if they got up onto the slopes, that's where you'd stop, Ron explained.
"You'd rather starve than go up after them. The slopes are the sanctuary of the little people and animals and plants," he said.
While talking about their connection to country and their totems, there is such an expression of tenderness in the trio as well as passion.
Let's hope our traditional custodians can continue to play a pivotal role in looking after our truly special places like Porongurup.
With people like Vernice, Larry and Ron taking such active and passionate roles in preserving their culture and sharing it with others, we know that things are in good hands.