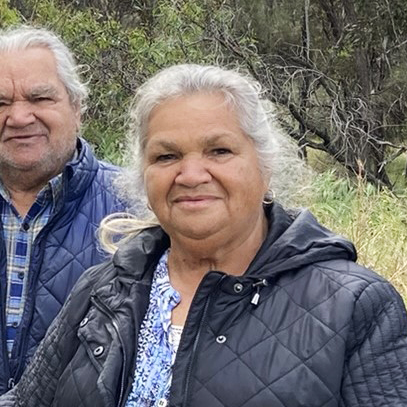 Aunty Elizabeth Woods
Goreng-Menang Elder
Aunty Eliza was born at Katanning in 1949. She is one of thirteen children of Ayplin Penny and Fred Eades. She has 5 children, 19 grandchildren, and a troupe of great-grandchildren.
Eliza has lived most of her life in and around the great southern. Growing up, she moved around as her family followed work around the region. Eliza has very fond memories of learning about life, culture and Country from her parents and grandparents. They instilled a lot of love and guidance and were very family orientated.
As well as happy memories of Reserve and camp life, Aunty Eliza carries memories of racism, exclusion and discrimination.
Eliza left school at 14, to start her first job making vermin baits at Kendenup. After 36 years of work and raising children, she returned to study at 50 years old to complete an Associate Degree in Aboriginal Community Management and Development at Curtin University.
Aunty Eliza's happiest memories of her working life are in Gnowangerup, working with Community Welfare to assist families living on the Gnowangerup Reserve and support their transition to town houses. She was involved in the Gnowangerup Aboriginal Corporation, including in community development roles that led to the establishment of the Gnowangerup Resource Centre and the occasional childcare facility.
In 1992, Eliza moved to Albany and started a new role with the department. At 70 years old, she ended her paid work, and continued with volunteer work within the Albany and Great Southern community. She has volunteered weekly for nine and a half years with the Soft Toy Project, sewing toys for Aboriginal children in care, supporting their continued connection to culture and Country.
Over the last five years, Aunty Eliza has been involved with researchers from UWA, working on walking together to care for Country. She considers herself privileged to continue to tell stories and revisit places that are very special to her family.