Picnic Areas

Mobile Reception (Telstra)
Within a beautiful stand of mature wandoo woodland is the Warrenup wetland, within the Warrenup Reserve.
Kenny's Tank is an old well next to the wetland that is just a short walk off the road.
Warrenup Reserve is on the Cranbrook Conservation Trail, so look out for the information signage at the site.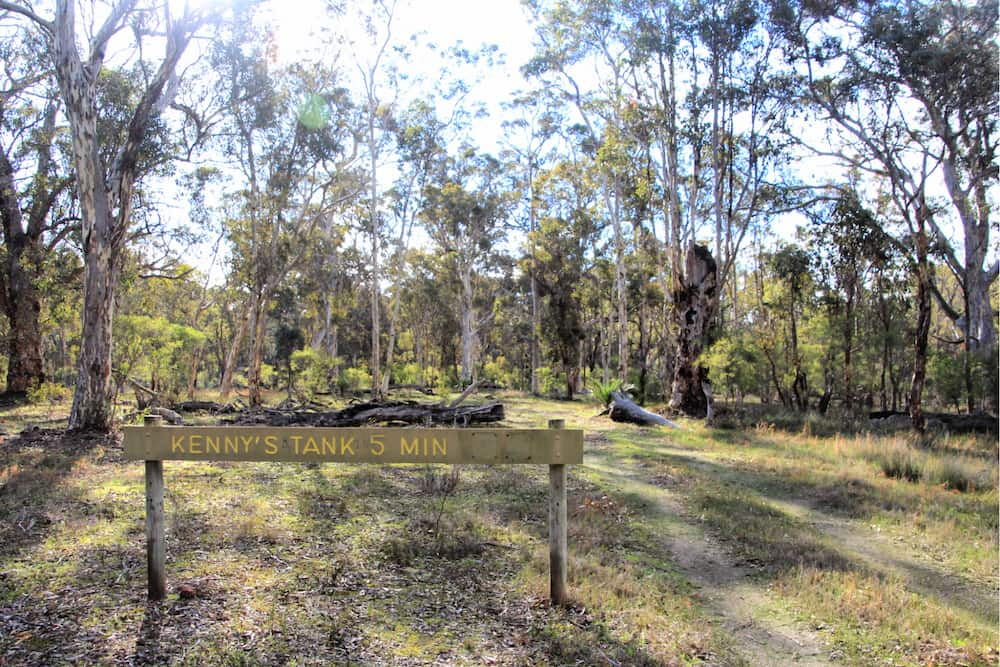 Noongar Boodja 
While we are not aware of specific stories relating to Warrenup, all the fresh wetlands across this area would have been important for Noongar people.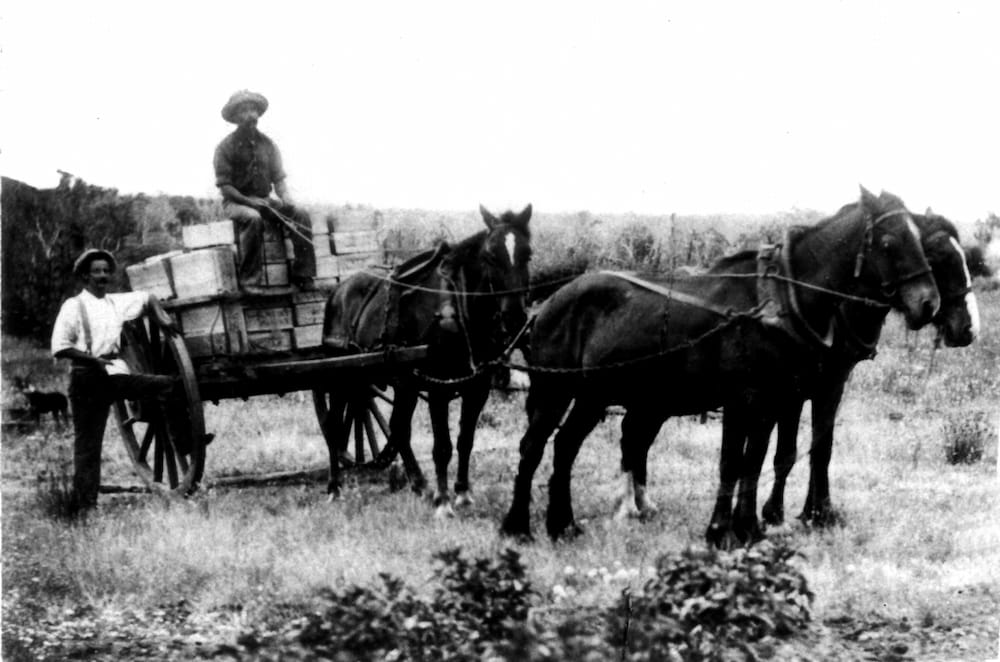 Like the 12 Mile Dam, Kenny's Tank was a popular camping spot and watering hole for early settlers, drovers and travellers.
Travellers on horseback, or drovers taking stock to the railway line that ran through Cranbrook needed plenty of water along the way.
Warrenup wetland, like most of the wetlands in this region, is ephemeral, and so would regularly dry up. A well was dug next to the wetland so that water was available at any time of the year.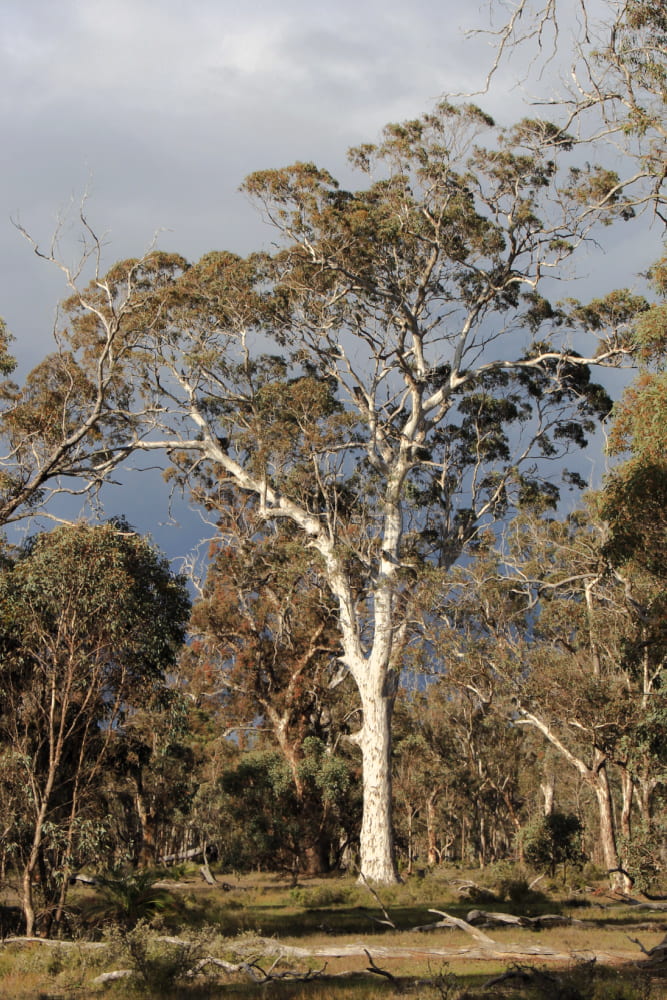 There is beautiful mature wandoo woodland at Warrenup Reserve.
Wandoo has been mostly cleared across the WA Wheatbelt and so intact remnants like this in the landscape are hugely important.
The older trees are particularly important habitat for a range of birds and animals – a wandoo apartment block for wildlife.
Carnaby's cockatoos rely on old trees like these with hollows for breeding and nesting. Phascogales, possums, bats and birds utilise the upper branches and hollows of old trees.
The large branches of old wandoo trees also provide nesting sites for a range of birds including ducks, owls and eagles.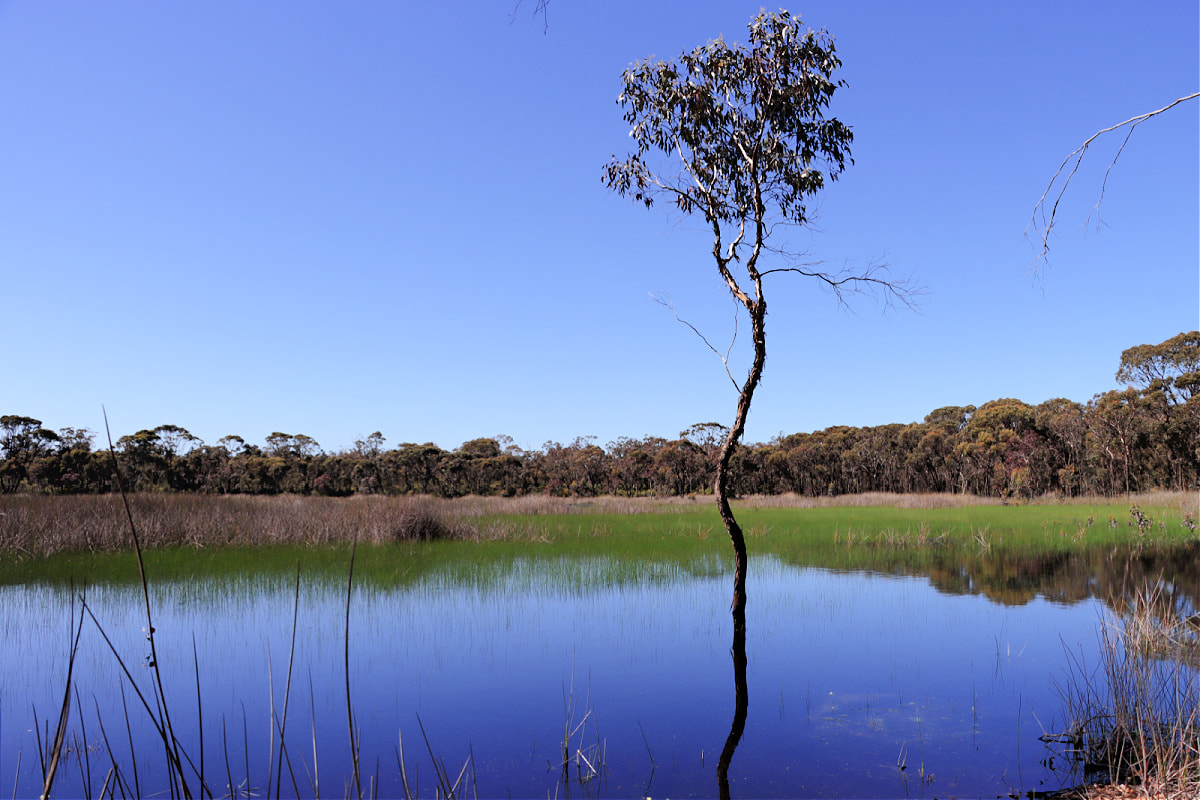 Closer to the wetland is a fringe of healthy Swamp Yate (Eucalyptus occidentalis) which appear to be similarly aged trees, likely germinated in the same year after a particularly wet season.
Within the wetland are patches of Jointed Twig-rush (Baumea articulata).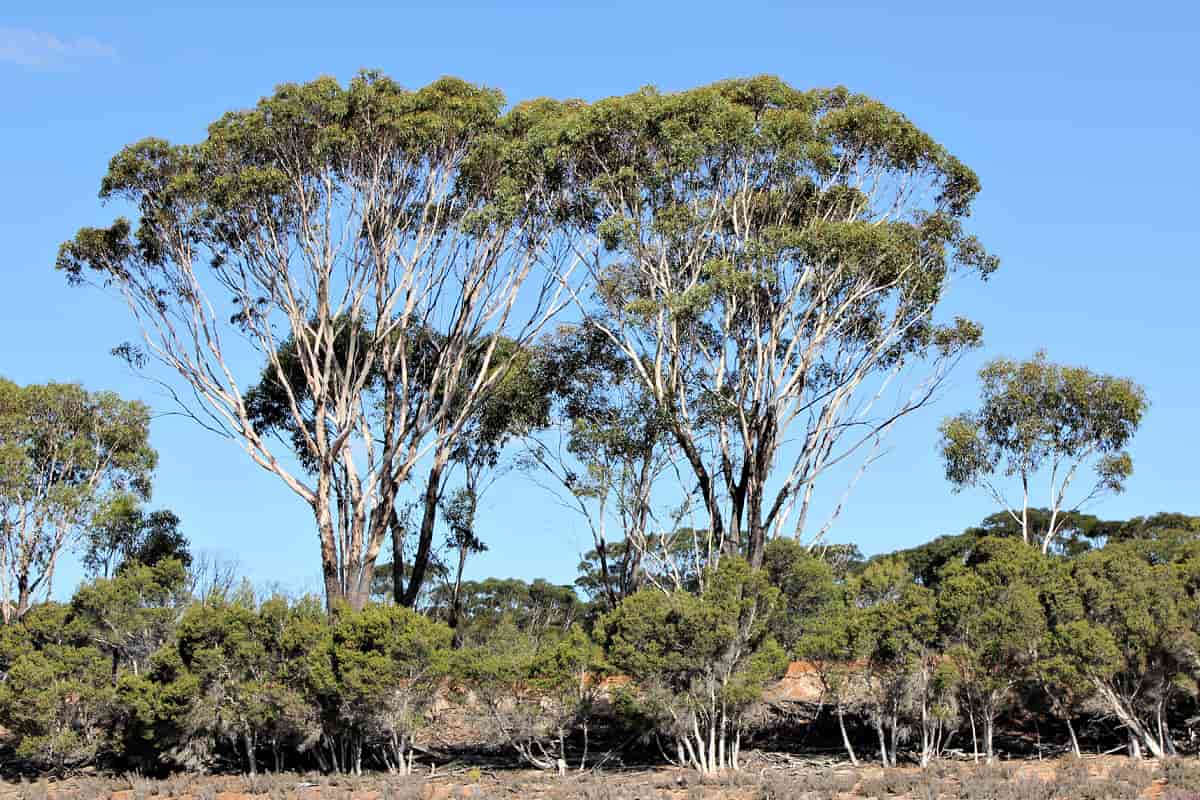 Swamp Yate (E. occidentalis)
Image: Anne Rick
Also known as Flat-topped Yate, this is a tree that generally prefers wetter areas near lakes and rivers. 
Assisted by their Noongar guides, early explorers in south-western Australia were well aware of the assocation  between Yate and water, as well as good soil and grass. John Septimus Roe, one of the first Europeans to explore this region, mentions coming across 'yeit' (yate) trees with relief, as in this extract from his 1848/49 journal: 
We encamped… in a grassy valley of good brown soil, timbered with yeit, casuarina, and wattles. The former is a species of the extensive eucalyptus family, with a dark rough netted bark, and is always welcomed by the traveller as growing in good soil, and amongst grass.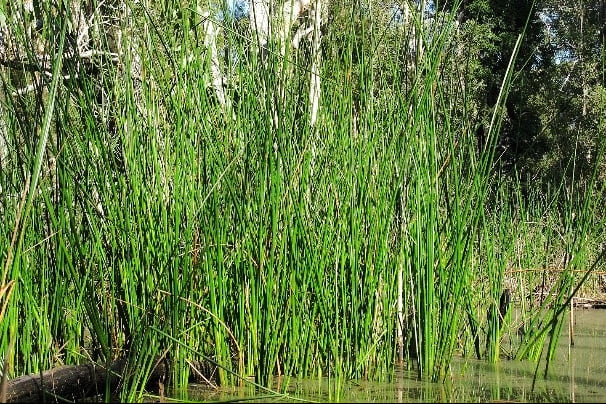 Jointed Twig-rush (Baumea articulata)
Image: Harry Rose, CC BY 2.0
This is one of the common rushes and sedges that grow around wetlands.
It can grow when completely inundated by water, but can also tolerate growing above the water level provided it has its roots into abundant water.
This rush prefers fresh water but can tolerate brackish to slightly saline water (10ppt).
Like some of the other sedges the roots of this rush are edible, and Noongar people ate them after roasting in hot ashes.
Birdlife 
Some of the bird species that have been spotted at Warrenup Reserve include:
Giving back and getting involved
Two community-based organisations play an important role in protecting and restoring wetlands and other important areas in landscapes in this area. 
The Gillamii Centre is the long standing landcare group based in Cranbrook and working with the farming community and others on a wide range of sustainable practices.
Green Skills is based in Denmark and is a leading group in achieving the Forest to Stirlings section of the Gondwana Link.
Contact them directly to donate to their wonderful work or to get involved in citizen science investigations or ecological restoration activities.  
Closest towns
Frankland River – 23km via Frankland-Cranbrook Rd
Cranbrook – 30km via Frankland-Cranbrook Rd 
Facilities 
There is a picnic table and interpretive signage just off the Cranbrook-Frankland Rd.
Where to eat and stay
See the suggestions from our friends at Great Southern Treasures:
Shire of Cranbrook
19 Gathorne Street
(08) 9826 1008
 www.cranbrook.wa.gov.au
Frankland River CRC
(08) 9855 2310